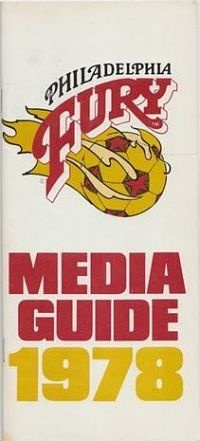 North American Soccer League (1978-1980)
Born: November 15, 1977 – NASL expansion franchise
Moved: October 1980 (Montreal Manic)
Stadium: Veterans Stadium (56,000)
Team Colors: Burgundy, Gold & White
Owners: Frank Barsalona, Elliot Hoffman, Larry Levine, Peter Rudge, et al.
Soccer Bowl Championships: None
The Philadelphia Fury marked the second go round for the North American Soccer League in the City of Brotherly Love.  The Fury followed on the heels of the Philadelphia Atoms (1973-1976), who won the league championship as an expansion team in 1973 and became the first NASL team featured on the cover of Sports Illustrated.  A handful of popular players from the Atoms era returned, including goalkeeper Bob Rigby and defender Bobby Smith.
The Fury weren't able to replicate the on-field success of the Atoms or anything close to it.  In their debut season of 1978, the club was managed by player-coach Alan Ball.  Thanks to the NASL's forgiving playoff system, the Fury squeaked into the postseason despite a 12-18 last place record.  They were quickly dispatched by fellow expansioneers the Detroit Express in the opening round.
In 1979 the Fury were worse, dropping to 10-20 in the regular season.  Once again this was good enough for the playoffs though and, in the franchise's finest hour, the Fury shocked the Houston Hurricane (22-8) in the first round.  The Philadelphians were eliminated by eventual Soccer Bowl '79 finalists Tampa Bay Rowdies in the quarterfinals.  Scottish forward David Robb finished 5th in the NASL in scoring in 1979 with 16 goals and 20 assists, but he would not return to the club in 1980.
In 1980 the Fury hired Eddie Firmani to manage the club.  Firmani was one of the NASL's most successful coaches, having won three of the previous five Soccer Bowls as manager at Tampa Bay and New York Cosmos.  But the club regressed again, finishing with a franchise worst 10-22 record and missing the playoffs for the first time.  Worse yet, the Fury had the worst home attendance in the 24-team NASL for the second season in a row, pulling fewer than 5,000 per match at Veterans Stadium.
In October 1980 Molson Breweries purchased the franchise and moved it to Montreal's Olympic Stadium.  The former Fury franchise played three more seasons as the Montreal Manic before going out of business in November 1983.
With their mediocre performance on-field, the Fury were best known for their sprawling 15-man ownership group.  The syndicate included rock music impresarios such as Rolling Stones manager Peter Rudge, concert promoter Frank Barsalona and stars Paul Simon, Rick Wakeman (of the band Yes) and Peter Frampton.
Philadelphia Fury Shop

Fury Retro T-Shirt by Throwback Max

Fury Yellow Weathered Retro T-Shirt by UGP Campus Apparel
Ian Plenderleith's Definitive Account of "The Short Life & Fast Times of the North American Soccer League"
Philadelphia Fury Memorabilia
Philadelphia Fury Video
Grim times for the Fury in 1980 in a near-empty Veterans Stadium:
The Fury on the road at Tampa Bay in the 1979 NASL quarterfinals. August 25, 1979
Links
North American Soccer League Media Guides
North American Soccer League Programs
###