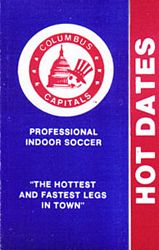 American Indoor Soccer Association (1984-1986)
Born: 1984 – AISA founding franchise.
Died: 1986 – The Capitals cease operations.
Arena: Fairgrounds Coliseum (5,124)
Team Colors:
Owner:
Short-lived entry in the Midwest-based American Indoor Soccer Association.  The Columbus Capitals were one of six original franchises when the AISA formed in early 1984.  The season took place during the winter months and the Caps played their home games at the Fairgrounds Coliseum.
The Caps' Yugoslav-born forward Lesh Shkreli, a veteran of the American outdoor minor leagues, led the AISA in scoring during the inaugural 1984-85 season (59 goals, 44 assists, 103 points) and was named league MVP.
The Capitals folded after the 1985-86 campaign.
##
Thanks to contributor Claude Jacques for the Capitals pocket schedule for this entry.  Visit his vast online pocket schedule collection here.
==Links==
American Indoor Soccer Association Media Guides
American Indoor Soccer Association Programs
###