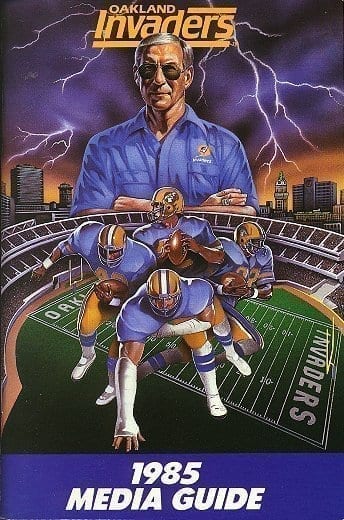 United States Football League (1983-1985)
Born: May 11, 1982 – USFL founding franchise
Folded: Postseason 1985
Stadium: Oakland-Alameda County Coliseum
Team Colors:
Owners:
USFL Championships: None
Text coming soon…
Oakland Invaders Shop

Invaders Logo T-Shirt by American Classics
Invaders Retro T-Shirt by Throwback Max
Just Published! One of FWIL's Top Sports Books of 2017
Oakland Invaders Memorabilia
Invaders Video
The last USFL game.  Invaders vs. Baltimore Stars in the 1985 USFL Championship Game, July 14, 1985.
In Memoriam
Defensive end Larry Bethea, who played briefly for Oakland in 1985, died of a self-inflicted gunshot wound on April 24, 1987 at age 30.
Offensive lineman Chris Riehm (Invaders '84) passed away in March 2012 at age 50.
Safety John Arnaud died of lung cancer at age 51 on November 10, 2012.
Downloads
1-4-1984 Oakland Invaders Territorial Draft Selections Press Release
April 1984 Oakland Invaders "Gold Helmet Club" Newsletter
Links
###