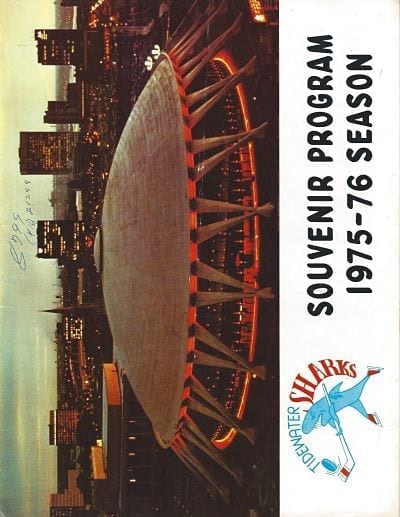 Southern Hockey League (1975-1977)
Born: 1975 – SHL expansion franchise
Folded: January 7, 1977
Arena: Norfolk Scope
Team Colors:
Owner: Tidewater Professional Sports, Inc. (Richard Davis, et al.)
SHL Championships: None
The Tidewater Sharks were a short-lived franchise in the Southern Hockey League of the mid-1970's. The SHL was the former Southern Division of the Eastern Hockey League, which seceded from that league in 1973.  The Sharks joined up as an expansion franchise two years later, taking advantage of vacant dates at the Norfolk Scope after the Virginia Wings of the American Hockey League left town in the spring of 1975.
Tidewater Professional Sports, Inc., a large consortium of local businessman headed by future Virginia Lt. Governor Richard Davis, operated the Sharks.  TPS, Inc. had operated the minor league baseball Tidewater Tides since 1963 but was unable to find similar support or stability for their minor league hockey efforts.
Midway through the Sharks' second season in the winter of 1976-77 the Southern Hockey League began to unravel. The Greensboro Generals and Richmond Wildcats folded on January 3rd, 1977, reducing the SHL from 7 to 5 clubs. The Sharks folded four days later on January 7th, along with the Winston-Salem Polar Twins who closed up shop later the same day.  The league staggered along with 3 clubs for another couple of weeks before throwing in the towel at the end of January 1977.
==Links==
Southern Hockey League Programs
##