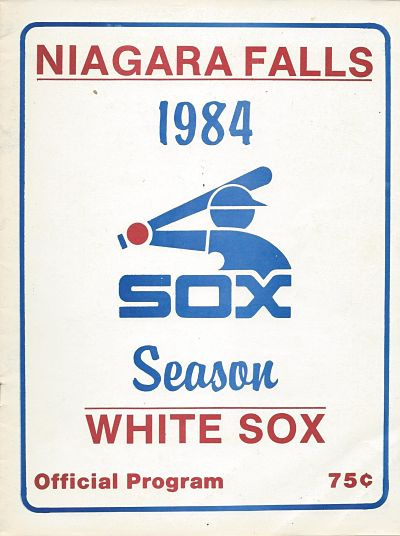 New York Penn League (1982-1985)
Born: 1982
Moved: Postseason 1985 (St. Catharine's Blue Jays)
Stadium: Sal Maglie Stadium
Major League Affiliation: Chicago White Sox
Team Colors:
Owner: George Wenz
New York-Penn League Champions: 1982
The Niagara Falls White Sox were one of several Niagara Falls entries in the New York-Penn League between the years 1970 and 1993, following the Niagara Falls Pirates (1970-1979) and preceding the Niagara Falls Rapids (1989-1993).
The Sox were a short season single-A farm club of the Chicago White Sox from 1982 to 1985, one of the bottom rung's on Chicago's developmental ladder.  Twelve Niagara Falls players from the White Sox era ultimately made it to the Major Leagues.  The most notable were 1990 National League Cy Young Award winner Doug Drabek and closer Bobby Thigpen, who established a Major League record with 57 saves with Chicago in 1990.
The Sox won the New York-Penn League title during the club's first season in the summer of 1982.
Owner George Wenz paid less than $10,000 for the ball club prior to the 1982 season.  After the 1985 season, he sold the team for a reported $250,000 and the franchise relocated to Ontario where it became the St. Catharine's Blue Jays.
Niagara Falls White Sox Memorabilia
Downloads
1985 Niagara Falls White Sox vs. Batavia Trojans Roster Insert
Links
New York-Penn League Media Guides
###