American Soccer League (1973-1979)
Founded: 1973 – The New York Greeks re-brand as New York Apollo.
Re-Branded: 1980 (New York United)
Stadium: Hofstra Stadium
Team Colors:
Owners:
ASL Champions: 1973, 1975 and 1978
New York Apollo were a 2nd Division pro soccer club in the American Soccer League that languished in the shadow of the far more popular New York Cosmos of the NASL during the mid-to-late 1970's.  Apollo played at Hofstra Stadium on Long Island, where the Cosmos had their own modest beginnings earlier in the decade.
Apollo was a powerhouse within the obscure ranks of the 2nd division.  The club appeared in five American Soccer League championship games between 1973 and 1979.  They won league titles outright in 1973 and 1978 and were declared co-champions with the Boston/Worcester Astros in 1975, after their championship match remained unresolved through nine overtime periods.
Prior to the 1980 season, the club re-branded itself as New York United and tried to go big time, moving to Shea Stadium in Queens and signing English star Rodney Marsh as Head Coach.  The move failed, with crowds at Shea often numbering less than 1,000 spectators and the club formerly known as New York Apollo folded for good after the 1981 season.
Long-time NBC, USA Network and MSG Network broadcaster Al Trautwig got his start calling Apollo games on the radio on WBAU 640 AM.
Thank you to former Apollo broadcaster and PR manager Howard Freshman for contributing many of the programs and images for this entry.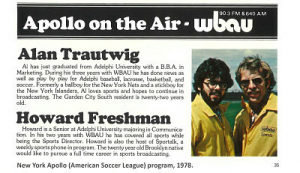 New York Apollo Shop
American Soccer League Logo T-Shirt by Ultras
New York Apollo Memorabilia
Downloads
1979 American Soccer League All-Star Game Program @ Hofstra Stadium
Links
American Soccer League Media Guides
American Soccer League Programs
###