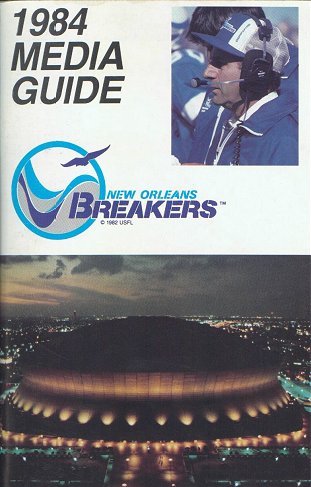 United States Football League (1984)
Born: October 18, 1983 – The Boston Breakers relocate to New Orleans.
Moved: November 13, 1984 (Portland Breakers)
Stadium: The Louisiana Superdome (69,658)
Team Colors:
Owner: Joseph Canizaro
USFL Championships: None
The Breakers of the United States Football League started out at Boston University's Nickerson Field in the spring of 1983.  Nickerson seated only 20,000 fans and was a destination of last resort after the Breakers' first choice – Harvard Stadium – didn't pan out.  Given the stadium situation in Boston, the franchise had no hope of sustainability there and original owner George Matthews decided to sell.
New Orleans real estate mogul Joseph Canizaro purchased the Boston Breakers in October 1983 for a reported $8 million and moved the team to the Louisiana Superdome.  The Breakers move was Joe Canizaro's second attempt to bring a pro franchise to the Superdome.  In 1975, he led an unsuccessful effort to acquire and relocate Major League Baseball's Baltimore Orioles to the building.
Canizaro inherited the roster and coaching staff of the 1983 Boston Breakers, who had been the surprise of the USFL, going 11-7 and just missing the playoffs with an anonymous roster led by a 35-year old quarterback (Johnnie Walton) with awkward mechanics who hadn't played in four years.
To this line-up, the 1984 New Orleans Breakers added three talented skill position players.  NFL jumper Dan Ross joined at tight end from the Cincinnati Bengals.  Ross, a Massachusetts native, planned to come home to play in Boston but found himself in the Big Easy instead.  The Breakers also added two big and talented rookie running backs in Buford Jordan out of Louisiana's McNeese State and the spectacularly talented 19-year old college dropout Marcus Dupree.  Dupree had the big name and the five-year $6 million contract, but it was Jordan who turned out to be the star, rushing for 1,276 yards and 8 touchdowns.
The Breakers started the 1984 season 5-0 and were 6-1 through seven weeks.  But the team melted down in the second half, losing nine of its final eleven games to finish 8-10 and out of the playoffs.
When it came to the USFL, owner Joe Canizaro's luck and timing were uncharacteristically lousy.  Although the Breakers drew reasonably well in the Big Easy (30,556 per game in 1984), Canizaro lost a reported $5 million on the team during the 1984 season.  Worse yet, in August 1984, less than a year after Canizaro bought the Breakers, a renegade faction of USFL owners led by Donald Trump of the New Jersey Generals pushed through a plan to move to a fall season in 1986.  The move immediately imperiled the ten USFL franchises that shared markets and stadia with NFL teams.  A wave of mergers, shutdowns and relocations followed as the USFL prepared for its final spring season in 1985.  Canizaro could never hope to compete with the NFL's New Orleans Saints head-to-head in the fall, so he packed the Breakers off to Portland, Oregon.
New Orleans Breakers Shop

Breakers Retro T-Shirt by Throwback Max
Just published! One of FWIL's Top Sports Books of 2017
New Orleans Breakers Memorabilia
Breakers Video
1984 New Orleans Breakers profile with Jim Lampley:
New Orleans Breakers vs. Chicago Blitz at the Superdome. March 25 1984.
==In Memoriam==
Former New Orleans Breakers offensive lineman Broderick Thompson died from injuries suffered in a motorcycle accident on February 4, 2002.  He was 41 years old.
Breakers tight end Dan Ross died of a heart attack following a jog on May 16, 2006 in Atkinson, New Hampshire.  He was 49.
Offensive tackle Louis Bullard, who played for the Breakers in Boston, New Orleans and Portland, passed away from cancer on April 18, 2010 at age 53.  Bullard was one of the Breakers' player representatives and the spokesperson for dozens of Portland Breakers in their long fight to collect unpaid wages from team owner Joe Canizaro.
==Downloads==
1984 New Orleans Breakers USFL Draft Selections 
==Links==
1984 New Orleans Breakers statistics on JustSportsStats.com
###