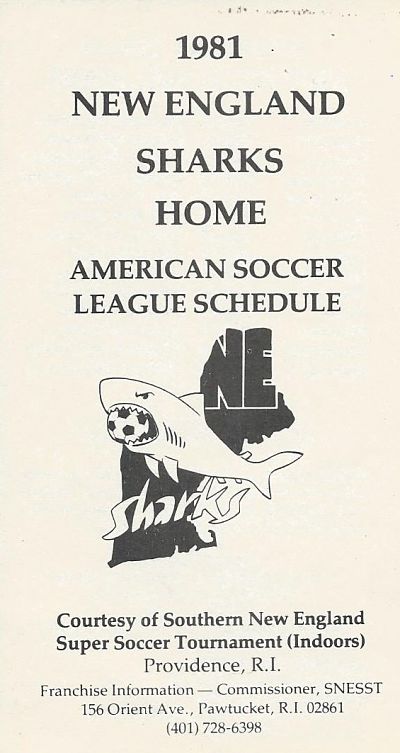 American Soccer League (1981)
Born: 1981 – ASL expansion franchise.
Folded: August 4, 1981
Stadiums:
Team Colors:
Owners: George Patrick Duffy & Charles Tapalian
ASL Championships: None
The New England Sharks were an obscure American Soccer League (1933-1983) club that folded midway through their only season of existence in the summer of 1981.  The Sharks started out in New Bedford, Massachusetts but moved to Pawtucket, Rhode Island in midseason in a cost-saving move.
Sharks co-owner George Patrick Duffy was a long-time youth sports organized in Pawtucket and was previously involved in the ASL as operator of the Rhode Island Oceaneers franchise in the mid-1970's.  Co-owner Charles Tapalian was a Providence-area property developer.
The Sharks ran out of money and shutdown after seventeen matches at the beginning of August.  The club's record was 4-13 at the time.  The ASL decided to award 1-0 forfeit victories to the remaining seven opponents on the Sharks' schedule, so their final record appears as 4-24 in the league's final standings for the 1981 season.
The Sharks averaged 1,440 fans per match during their abbreviated season, according to The Associated Press.
Links
American Soccer League Media Guides
American Soccer League Programs
###