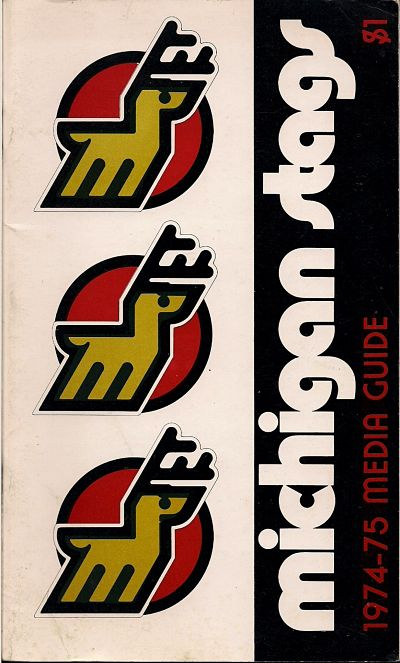 World Hockey Association (1974-1975)
Born: April 1974 – The Los Angeles Sharks relocate to Detroit.
Moved: January 19, 1975 (Baltimore Blades)
Arena: Cobo Arena (10,200)
Team Colors: Red, Black & White
Owners: Charles Nolton & Peter Shagena
The Michigan Stags were a brief and doomed attempt by the rebel World Hockey Association (1972-1979) to challenge the NHL's Detroit Red Wings head-to-head during the winter of 1974-75.
The Stags began life on the West Coast, playing the WHA's first two seasons as the Los Angeles Sharks (1972-1974).  A pair of Michigan chemical industrialists, Charles Nolton and Peter Shagena, purchased the club and moved it to Detroit in April of 1974.  Re-named the Michigan Stags, the WHA franchise would play in 10,000 seat Cobo Arena on the banks of the Detroit River.  Across town at Olympia Stadium, the city's NHL franchise was mired in the middle of the 20-year "Dead Wings" era of futility. This seemed to offer an opening to an upstart WHA, that now featured two of the most popular ex-Red Wings of recent years: future Hall-of-Famers Gordie Howe of the Houston Aeros and Frank Mahovlich of the Toronto Toros.
Nolton and Shagena, however, proved not to be the type of owners needed to challenge a member of the NHL's "Original Six".  The Stags were badly undercapitalized from the start.  The team stocked their roster with unremarkable minor league journeymen, with the exception of talented winger Marc Tardif.  The Stags failed to secure a local television contract, which was critical to establishing an identity in hockey-mad Detroit.  And the WHA schedule offered no favors.  The Stags could have generated huge publicity from Gordie Howe's return to the city, but league officials didn't schedule the Houston Aeros' first appearance in Detroit until the second half of the 1974-75 season.  By that time, the Stags would already be gone.
In early January the IRS filed a $177,000 tax lien against the Stags and the WHA was forced to seize the franchise and meet the club's payroll.  The Stags played their final game on January 18, 1975, a 2-1 road loss to the Cleveland Crusaders that dropped the team's record to 18-40-3.  Shortly afterwards the WHA abruptly moved the team to Baltimore, Maryland where it finished out the season as the league-owned Baltimore Blades before disbanding in the spring of 1975.
The combined record of the 1974-75 Stags/Blades was 21-53-4, good for a distant last place in the WHA's Western Division.
Michigan Stags Shop
Stags Retro T-Shirt by Throwback Max
The Rebel League: The Short & Unruly Life of the World Hockey Association by Ed Willes
Michigan Stags Memorabilia
Links
Remembering the Woeful Michigan Stags Hockey Team – Richard Bak
World Hockey Association Media Guides
World Hockey Association Programs
###