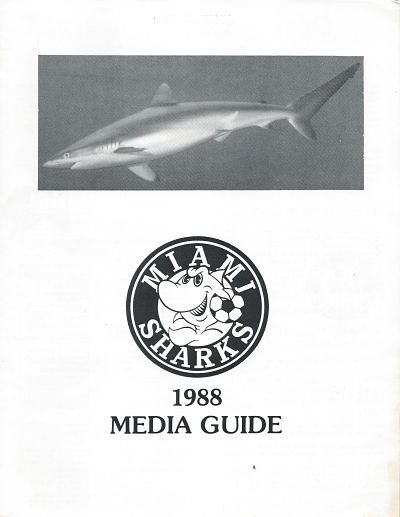 American Soccer League (1988-1989)
Born: 1987 – ASL founding franchise.
Re-Branded: 1989 (Miami Freedom)
Stadiums:
Team Colors: Blue & White
Owner: Dirceu Caria
Cursed pro soccer outfit that muddled along for two chaotic seasons in the American Soccer League, a low-budget regional loop that nevertheless represented the highest caliber of outdoor soccer in the United States at the end of the 1980's. The Sharks were one of ten original franchises when the ASL launched in the spring of 1988.  Novice sports owner Dirceu Caria, a 46-year old Brazilian businessman, brought in a number of big names on the American soccer scene during his two-year run, but few stayed long before getting on the wrong side of the owner.
The big name at launch was former Brazilian World Cup captain and New York Cosmos star Carlos Alberto, signed as the Sharks' Head Coach and General Manager for the 1988 season.  Alberto was gone by midseason as the Sharks finished with the worst record in the ASL at 4-16. Compounding the Sharks' problems, they had to share the Miami/Ft. Lauderdale market with the ASL's Ft. Lauderdale Strikers, who were a re-boot of the once popular North American Soccer League club that played from 1977 to 1983.  The Strikers had experienced front office execs, a well-known brand name in the soccer community and some popular returning players from the NASL era.  They consistently drew 3,500 – 5,000 to Ft. Lauderdale's Lockhart Stadium.   The final seven Sharks home games of the 1988 season drew fewer than 1,000 spectators to Tamiami Park.
Caria brought in ASL Commissioner Chuck Blazer as Sharks President during the winter of 1988-89 to breathe some life into the club.  The team relocated to Milander Stadium in Hialeah.  Blazer brought on former NASL player and head coach Wim Suurbier as manager.  He also made two high profile signings, bringing on 40-year old Peruvian World Cup vet Teofilo Cubillas and one of the most talented young American players in the game, midfielder Tab Ramos of the U.S. National Team.
Blazer lasted only a few months before Caria fired him in May 1989.  Two weeks later, Caria canned Wim Suurbier after a 2-3 start.  In June, Caria turned his attention to Cubillas, first accusing him of lazy play in the press and then releasing the former South American Player of the Year.  The Sharks bottomed out in July 1989 when only 120 fans came out to watch a game against the Orlando Lions in Hialeah.   The Sharks won only one of the final fifteen matches after sacking Suurbier and finished a league-worst 3-17.
After the 1989 season the team changed hands and was re-branded as the Miami Freedom (1990-1992).
==Miami Sharks Programs on Fun While It Lasted==
==Key Figures==
==Downloads==
1988  Miami Sharks Roster as of 5-1-1988 
==Links==
American Soccer League Programs
###