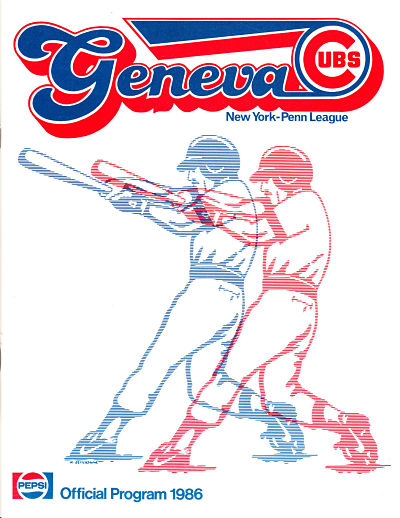 New York-Penn League (1977-1993)
Born: 1977
Moved: 1993 (Williamsport Cubs)
Stadium: McDonough Park
Major League Affiliation: Chicago Cubs
Owners:
New York-Penn League Champions: 1978, 1987 & 1992
The Geneva Cubs were the short-season Class A farm club of the Chicago Cubs for nearly two decades. The small city of approximately 13,000 is part of the Finger Lakes region of New York.
Despite Geneva's long run with the Cubs, remarkably few impact Major League players ever came through McDonough Park. The Cubs' top prospects of the era, Mark Grace and Rafael Palmeiro, both bypassed Geneva. The best known Major Leaguers to come out of Geneva during the Cubs years were Billy Hatcher (Geneva '81), Jamie Moyer (Geneva '84) and Brendan Donnelly (Geneva '93).
Local owner Paul Velte moved the team to Williamsport, Pennsylvania after the 1993 season.
Geneva Cubs Memorabilia
Links
"Our Towns; A 4-30 Managed Learns to Play Utility Infielder", Michael Winerip, The New York Times, July 22, 1988
New York-Penn League Media Guides
##