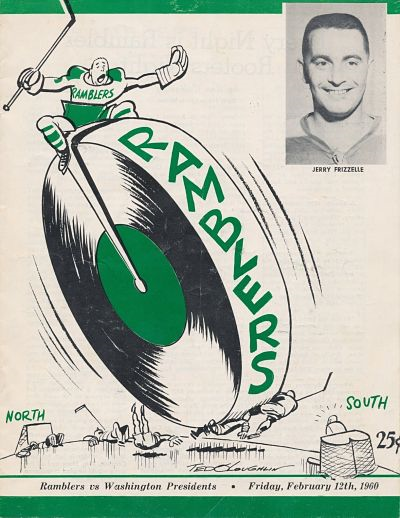 Eastern Hockey League (1955-1964)
Born: September 6, 1955 – EHL expansion franchise.
Folded: August 1964
Arena: Philadelphia Arena
Team Colors:
Owner: Bud Dudley
The Philadelphia Ramblers were a minor league hockey outfit that played nine seasons in the Eastern Hockey League from 1955 until 1964.  The "Ramblers" name was a revival of a previous Philly minor league club that competed in the American Hockey League from 1935 to 1941.  Both incarnations of the Ramblers played at the old Philadelphia Arena at 4530 Market Street.
The Ramblers were never especially good.  They advanced beyond the 1st round of the playoffs only once in nine seasons.  During the club's second campaign in the winter of 1956-57, the Ramblers advanced to the EHL Championship Series, where they lost to the Charlotte Checkers 4 games to 3.
During the summer of 1964, the Ramblers franchise was revoked and replaced by a new club – the Jersey Devils – in nearby Cherry Hill, New Jersey.
Ramblers owner and President Bud Dudley was also the founder and promoter of the Liberty Bowl college football bowl game, which started out in Philadelphia in 1959.  Dudley later moved the game to Memphis, Tennessee in 1965, where it continues to this day.   Dudley was the Executive Director of the Liberty Bowl until his retirement in 1994.  He passed away in 2008 at age 88.
==Philadelphia Ramblers Programs on Fun While It Lasted==
Season
Date
Opponent
Score
Program
Other

1955-56

1955-56
11/4/1955
vs. Clinton Comets
W 5-2
Program
1955-56
11/15/1955
vs. Johnstown Jets
W 7-6 (OT)
Program
1955-56
12/6/1955
vs. Washington Lions
W 5-2
Program

1956-57

1956-57
11/13/1956
vs. New Haven Blades
??
Program

1958-59

1958-59
11/18/1958
vs. Clinton Comets
??
Program
1958-59
12/19/1958
vs. New Haven Blades
??
Program
1958-59
1/14/1959
vs. Russian National Team
T 3-3
Program

1959-60

1959-60
2/12/1960
 vs. Washington Presidents
?? 
Program
1959-60
3/4/1960
vs. Johnstown Jets
??
Program

1960-1961

1960-61
2/22/1961
vs. Johnstown Jets
??
Program
1960-61
2/25/1961
vs. Charlotte Checkers
??
Program
==Links==
Eastern Hockey League Programs
###