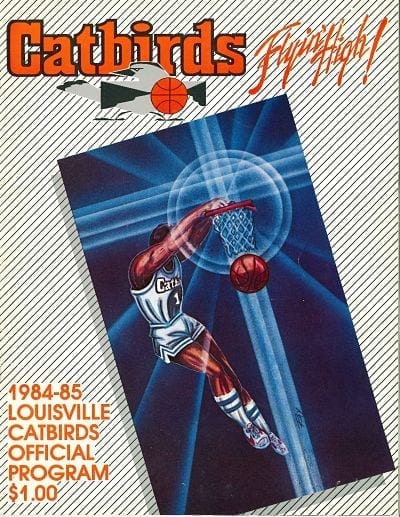 Continental Basketball Association (1983-1985)
Born: June 27, 1983 – CBA expansion franchise.
Moved: July 11, 1985 (La Crosse Catbirds)
Arenas:
Team Colors:
Owners: J. Bruce Miller, Nolen Allen, et al.
The Louisville Catbirds were a minor league basketball outfit that played for two seasons in the Continental Basketball Association. The Catbirds identity was selected to try to appeal to both University of Kentucky fans ("Cats") and University of Louisville ("Birds") hoops fans.
The Catbirds signed a pair of troubled but talented ex-stars from the University of Kentucky. Dirk Minnifield was Kentucky's "Mr. Basketball" as a high school senior in 1979. The 6′ 3″ point guard fathered three children by the time he arrived at UK. Minnifield later acknowledged heavy drug use during his Wildcats career. Minnifield began his pro career with the Catbirds in 1983. He would make it to the NBA in 1985 and hung around the league in a journeyman capacity. After cleaning up in the 1990's, Minniefield became an NBA drug counselor.
More troublesome was the Catbirds' late 1983 signing of paroled serial rapist Tom Payne. In 1969 Payne integrated the UK basketball program as the first black player on Adolph Rupp's team. Payne played one season at UK before entering the NBA in 1971, where the Atlanta Hawks signed the 7′ 1″ center to a 5-year, $750,000 contract.  Payne was arrested in Georgia at the end of his rookie season on multiple rape charges. Soon after, he was indicted by Kentucky prosecutors for a separate series of sexual assaults. Payne would spend the next 11 years in Georgia and Kentucky prisons, all the while maintaining his innocence. Paroled in November 1983, the Catbirds quickly signed the 33-year old.  The CBA initially prohibited Payne from playing road games, but basketball writer John Feinstein reported that he received a warm reception in Louisville. Payne received a standing ovation at Louisville Gardens during his Catbirds debut.
In February 1986, his basketball career now over, Payne and stalked and raped a woman returning from an Valentine's Day date in Los Angeles. Police arrested Payne during the commission of the assault in the victim's parking garage. He was convicted in November 1986 and has spent the past 30 years in prison.
In Louisville, the Catbirds left Louisville Gardens downtown and moved to Broadbent Arena at the state fairgrounds for their second season in the winter of 1984-85. Attendance plummeted by more than 50% at Broadbent and the team was sold during the summer of 1985. The new owners moved the club to La Crosse, Wisconsin, where the team was known as the La Crosse Catbirds from 1985 to 1994.
Attorney J. Bruce Miller, who was often the public face of the Catbirds' ownership group, has subsequently spent years trying to attract an NBA franchise to Louisville.
==Links==
"A Journey of Payne: From Jailbird's Life To a Catbirds' Seat", John Feinstein, The Los Angeles Times, January 25, 1984
Continental Basketball Association Media Guides
Continental Basketball Association Programs
###