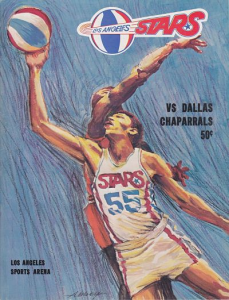 American Basketball Association (1968-1970)
Born: 1968 – The Anaheim Amigos relocate to Los Angeles, CA.
Moved: June 11, 1970 (Utah Stars)
Arena: Los Angeles Memorial Sports Arena
Team Colors:
Owner: Jim Kirst
ABA Championships: None
The Los Angeles Stars basketball team was a short-lived effort by the American Basketball Association to plant its flag in L.A. during the early years of its rivalry with the National Basketball Association.  The Stars labored in the shadows of the NBA's Lakers and never established a substantial following.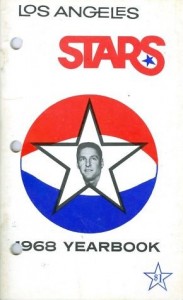 The Stars, coached by Hall-of-Famer (and future Lakers coach) Bill Sharman, did enjoy a thrilling Cinderella playoff run at the end of its second and final season in L.A.  As late as March 1970, the Stars sat in last place in the ABA's Western Division.  But Sharman's club had talent, sparked by guard Mack Calvin and fellow rookie Willie Wise at small forward.  A late season surge saw the Stars grab the final Western Division playoff spot with a 43-31 fourth place finish.  The Stars then upended the Dallas Chaparrals and the  top-seeded Denver Rockets to earn a trip to the ABA Championship Series against the Indiana Pacers.  The Pacers, a league-best 59-25 in the  regular season, ended the Stars' unlikely run with a 4-2 series victory.
The 6th and deciding game of the 1970 ABA Championship Series was held at the Los Angeles Memorial Sports Arena on May 25, 1970.  The Pacers won 111-107 before 8,233 fans – the largest crowd in Stars franchise history.  It was also the last crowd in the team's brief existence in Southern California.  By this time, the Stars departure was already in the works.  Owner Jim Kirst sold the troubled club to Denver-based cable television entrepreneur Bill Daniels in March of 1970.  Two weeks following the Game 6 loss in the finals, Daniels announced the club would move to Salt Lake City for the 1970-71 ABA season.
Daniels' Utah Stars became a league powerhouse during the early 1970's, appearing in three more ABA finals series, and winning the championship in 1971.  The franchise folded in December 1975 and the ABA closed down the following spring.
Los Angeles Stars ABA Shop
Loose Balls: The Short, Wild Life of the American Basketball Association by Terry Pluto
Los Angeles Stars ABA Memorabilia
In Memoriam
Forward Wayne Hightower (Stars '69-'70) died of a heart attack on April 18, 2002. He was 62.  New York Times obituary.
Former Stars Head Coach Bill Sharman passed away at age 87 on October 25, 2013.
Links
American Basketball Association Media Guides
American Basketball Association Programs
###