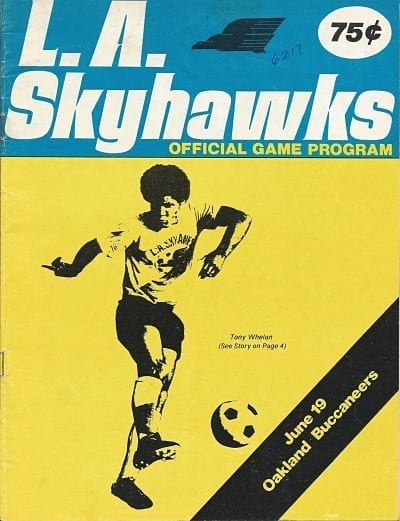 American Soccer League (1976-1979)
Born: 1976 -ASL expansion franchise
Folded: Postseason 1979
Stadiums:
Team Colors:
Owners:
American Soccer League Champions: 1976
The Los Angeles Skyhawks were a 2nd Division pro soccer outfit that competed in the American Soccer League during the late 1970's. The team won a league championship in its debut season under the direction of British coach Ron Newman, who went on to be a highly successful coach in the NASL, MISL and Major League Soccer.
The Skyhawks came into existence in 1976 as part of a major West Coast expansion by the ASL.  The ASL traced its roots back to the Depression years, but remained a ragtag assemblage of Northeastern ethnic semi-pro clubs until the early 1970's.  The West Coast experiment last only until 1980, when the league contracted and retreated East back across the Mississippi.
During the ASL's brief run as a truly national league from 1976 to 1980, the Skyhawks were probably the most successful West Coast club. The team drew decent crowds by 2nd Division standards, including 9,652 for a 1976 exhibition match against the Mexican Olympic Team at L.A. Memorial Coliseum. The club's normal home grounds were Birmingham Stadium and Pierce College Stadium in the San Fernando Valley.
Team owner Bob Nordskog pulled the Skyhawks out of the ASL following the 1979 season, which helped to hasten the collapse of 2nd Division soccer on the West Coast and the subsequent retreat of the league back to the Eastern U.S.  The ASL folded for good in early 1984.
Los Angeles Skyhawks Shop
American Soccer League Logo T-Shirt by Ultras
Los Angeles Skyhawks Memorabilia
In Memoriam
Midfielder Micky Cave (Skyhawks '76) died of carbon monoxide poisoning on November 6, 1984 at age 35.
Former Skyhawks owner Bob Nordskog passed away from a cerebral hemorrhage July 15, 1992 at age 79. New York Times obituary.
Midfielder Alan Sproates (Skyhawks '77-'79) passed away on February 5, 2015 at age 70. Marin Independent Journal tribute.
Downloads
1978 American Soccer League Attendance Report
Links
American Soccer League Media Guides
American Soccer League Programs
###