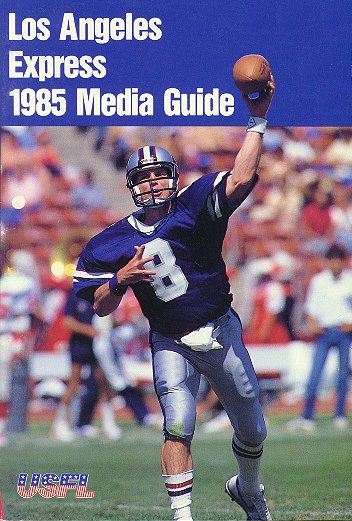 United States Football League (1983-1985)
Born: May 11, 1982 – USFL founding franchise
Folded: Postseason 1985
Stadiums:
Team Colors:
Owners:
USFL Championships: None
Text coming soon…
Los Angeles Express Shop

Express Retro T-Shirt by Throwback Max
Just Published! One of FWIL's Top Sports Books of 2017
Los Angeles Express Memorabilia
Express Video
Los Angeles Express debut game at the L.A. Coliseum. March 6, 1983.
In Memoriam
Defensive back David Croudip (Express '83) died of a cocaine overdose on October 10, 1988 at age 30.  He was a member of the Atlanta Falcons at the time. (New York Times article)
Ex-USC and L.A. Express wide receiver Kevin Williams ('83) died in a freight train crash near Los Angeles while working as a brakeman on February 1, 1996.  Williams was 38.
Founding co- owner Bill Daniels died on March 7, 2000.  The cable TV pioneer was 79 years old.
Express General Manager Don Klosterman ('84-'85) died of a heart attack on June 7, 2000 at age 70.
Former USC and L.A. Express defensive lineman Rich Dimler passed away September 30, 2000 of pancreatitis at age 44.
Linebacker Carlton Rose (Express '85) died of a stroke on March 26, 2006.  Rose was 44.
Linebacker Eric Scoggins (USC '80, Express '83) died of amytrophic lateral sclerosis (ALS) on January 10, 2009 at the age of 49.
Links
###