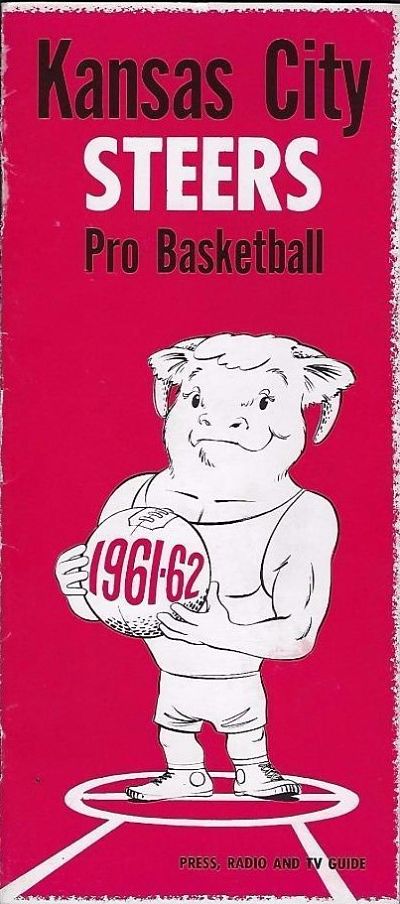 American Basketball League (1961-1963)
Born: 1961 – ABL founding franchise
Folded: December 31, 1962
Arenas:
Team Colors:
Owner: Kenneth A. Krueger
ABL Championships: 1963* (*Sort of…)
The Kansas City Steers were one of the best entries in Abe Saperstein's short-lived American Basketball League. The Harlem Globetrotters impresario aimed to compete with the NBA in major markets around the country and succeeded in luring top talent to the circuit.
The Steers' starting five of Bill Bridges (F), Maury King (G), Nick Mantis (G), Larry Staverman (F) and Bumper Tormohlen (C) all played in the NBA. Bridges, a rookie of the University of Kansas in 1961, finished fourth in the ABL in scoring with 21.4 points per game in 1961-62. He was leading the league with 29.2 per contest when the league folded midway through its sophomore campaign.
The Steers posted the best record in the ABL in each of the league's two seasons.  In 1961-62, the Steers went 28-12. They met the Cleveland Pipers in the ABL championship series in April 1962. The Steers blew out the Pipers by 25 points and 36 points respectively in the first two games in Kansas City. But they could not close the deal on the road in Ohio. The series  was due to return to Kansas City for decisive Game 5 on April 8th, 1962. That's when things when haywire.
The Steers primary home, Municipal Auditorium, booked the Ice Capades for April 8th. The Steers booked the 1,500-seat Mason-Halpin Fieldhouse on the campus of tiny Rockhurst College for the title contest. Pipers owner George Steinbrenner (yes, that one) was outraged, believing Saperstein promised the series finale to Cleveland. As the teams bickered with each other and the ABL office, the Pipers no-showed for Game 5 at Rockhurst College. Rather than forfeit the game to the Steers, Saperstein decreed the game would now be played the following night, April 9th, 1962, at Rockhurst. This time the Pipers showed and dealt the Steers a crushing 106-102 defeat.
The Steers came back for the ABL's second season in the fall of 1962. By now the league was on shaky ground. Only three of the league's eight founding clubs remained in their original cities of a year earlier. Steinbrenner folded the league champion Pipers after a failed attempt to run off and join the NBA.
The Steers were once again the class of the league, racing out to a 22-9 record in the fall and early winter of 1962. But the ABL's woes proved insurmountable, and the Steers closed their doors along with the rest of the league on New Year's Eve 1962. The ABL declared the Steers to be league champions for 1963 by virtue of having the league's best record at the time of closing.
In Memoriam
Forward Larry Staverman died on July 12, 2007 at the age of 70. After playing for the Steers, Staverman went on to become the first head coach of the Indiana Pacers in 1967.
Steers forward Bill Bridges passed away on September 15, 2015 from cancer at age 76. Kansas City Star obituary
Links
American Basketball League Media Guides
American Basketball League Programs
##