Continental Basketball Association (1983-1986)
Born: March 1983 – The Maine Lumberjacks relocate to Brockton, MA.
Moved: July 16, 1986 (Pensacola Tornados)
Arenas:
Team Colors:
Owners: John Ligums
The Bay State Bombardiers were a short-lived minor league basketball club in the Continental Basketball Association (1978-2009).  The CBA was the official developmental league of the NBA during the 1980's and 1990's, only one step removed but also million light years away from the bright lights of Madison Square Garden and the Forum.
The team originated in Bangor, Maine as the Maine Lumberjacks (1978-1983).  The club moved south in March 1983 when Lumberjacks investor John Ligums relocated the team to Brockton, Massachusetts, twenty minutes south of his home in the tony Boston suburb of Milton.
Steve Warshaw – Bombardiers General Manager
I saw a tiny little want ad in The Wall Street Journal and it said "challenging career in pro sports". 
I was invited out to interview for the Deputy Commissioner position underneath Jim Drucker in the Continental Basketball Association league office.  There were two guys that I was competing against.  One was Rick Horrow, who has got a very successful sports business today.  He was Joe Robbie's guy and was involved in the building of Joe Robbie Stadium down in Miami and had crazy credentials.  The other guy was Tom Meschery, a former NBA All-Star who ended up getting the gig.
So I didn't get the job, but I met all twelve of the CBA owners.  I had done very well in my interview.  They told me later that I was the only guy that had told the owners to stop talking when I was trying to respond to questions.  It was a big U-shaped, "Face The Nation"-type set up.  Several of the owners were talking amongst themselves.  I was just a 23-year old kid and I don't know what got into me, but I said "Excuse me, am I boring you guys?"  It was really arrogant and they loved it, apparently, because part of Deputy Commissioner's job was trying to keep control of these guys.
One of the guys that liked my attitude was John Ligums, who owned the Bombardiers.  We went out to dinner and had a bunch of laughs and he offered me a job to come sell for him as the team's business manager.
**
The Bombardiers spent one tumultuous season playing out of a high school gymnasium in Brockton.  Former ABA star Johnny Neumann was the team's Head Coach. In June 1984, Ligums moved the Bombardiers an hour west to Worcester, Massachusetts and hired recently retired Boston Celtics star and future Hall-of-Famer Dave Cowens to replace Neumann as coach.
Steve Warshaw
A former ABA star named Johnny Neumann was the Head Coach and he had just been fired after he failed his drug test.  That actually made Sports Illustrated.  The Sports Illustrated writer asked him what happened and Johnny Neumann said "Well, I had been clean, but on the way to take the test, I got so stressed out that I smoked a joint."
John Ligums told me he was going to hire the former Boston Celtics All-Star Dave Cowens as the new coach.  And then we moved to Worcester in a heart beat.  I might have been in Brockton for a couple of weeks before we pulled up stakes for Worcester.
So then we moved to Worcester and spent a couple of years there.  Dave Cowens lasted the first year only and it's fair to say that John and Dave are certainly not on each other's Christmas lists.
I think the reason there was so much strain between John and Dave Cowens was because John's expectations were ridiculously high.  To win in the CBA, you have to have a player personnel network that's crazy good.  You really have to know where to get players.  And with Dave, well, there's no way he should have known how to do that.  He didn't have any experience at the time.  The CBA was a very specialized player market.  Dave was just really focused on the coaching and he didn't have the horses to win and to dominate in the playoffs.  So that's why the friction occurred between John and Dave.  Unrealistic expectations by the owner and a rookie coach, who was a great coach, but didn't have the player personnel chops to unearth the talent.
**
Though Worcester had the brand new Worcester Centrum, as 13,000 seat downtown arena opened in 1982 at a cost of $25 million, the Bombardiers were unable to work out a lease to play there.  Instead the team played at the Worcester Memorial Auditorium, an historic Depression-era bandbox with a Kimball console organ.
Steve Warshaw:
We tried to go into the Centrum, but the GM at the time wanted no part of it.  He didn't even want to let us play a game of the month there, or even one game.  I remember I even brought Cowens to the meeting and that didn't help.  I thought, Jesus, I've got Dave Cowens here and you won't even try one game with us.  That's just hubris.  We do one night with Cowens and he could bring in all of his Celtics buddies, but this guy wouldn't hear of it.  It was just a really foolish attitude by the management of the Centrum at that point, so, no, we never played a game there.
**
Still, the Bombardiers did have so outstanding minor league players. And the team found its stride on the court during its third season in the winter of 1985-86.  Cowens was replaced by Mauro Panaggio, a minor league basketball warhorse who went on to become the CBA's winningest all-time coach.  The Bombardiers went 30-18 and advanced to the CBA's playoff semi-finals, where they lost to the eventual champions, the Tampa Bay Thrillers.  It would be the team's final season in Worcester.
Steve Warshaw:
We had probably one of the greatest players in the history of the CBA.  A guy named "Awesome" Joe Dawson.  He was clearly our John Henry, our mythical 6' 5" CBA god.  But Joe could never make it in the bigs because he was a tweener.  Joe played football and basketball at Southern Mississippi.  He used to train with Walter Payton.  He was a really interesting character.
He was just an absolute gentleman and yet on the court he was absolutely vicious.  Vicious body, big sharp elbows, and tough.  I mean, no one messed with Joe Dawson.  There were a lot of brawls and nobody would go near this guy.
We also had some wild guys like Kevin Williams, the former St. John's point guard who played in the NBA for a bunch of teams.  He was actually a really nice guy, Kevin, but he was also a city kid from a very tough part of New York City.  He was a brawler.  Kevin started a couple of big brawls in the CBA.  He also led our team in scoring.  Kevin Williams was probably the best player I ever saw in the CBA.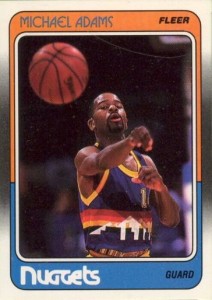 Michael Adams, in my opinion, was the most marketable, fantastic CBA All-Star and the league really didn't do anything with him.  It was ridiculous.
His agents Frank Catapano and Larry Fleisher came to me.  They worked on Michael together and represented him.  I remember Frank said to me "Listen, I'll let you beat me up in the salary negotiation so you look good in your boss' eyes. I'll just need one favor"  We signed Michael for $450 a week.  That's what this future NBA All-Star was making in the minors.
Anyway, Frank says, "The only thing I'd ask you to do is call the NBA GM's for me every Friday when there's a point guard that goes down to injury and let them know about Michael."  He gave me a list of all their phone numbers.  I thought that was the greatest offer I'd ever gotten.  I was a 24-year old in the minors and I got to talk to NBA GM's every week and send them stats.
Michael was just a great kid.  We're the same age almost.  We would actually go out dancing together at the Best Western in Worcester.  I was the same age of a lot of these players, so it was a lot of fun for me.
Michael Adams was the most telegenic, the most interesting, thoughtful, caring guy that I knew in the CBA.  The media loved him.  He also got it done on the court.  This guy was a phenomenal talent.  His speed was even more obvious in the CBA.  His first step was just so good.  He absolutely dominated.  It was a pleasure to see and he didn't last in the CBA too long.  He played for us for one season and then he stuck in the NBA for good after that, becoming an NBA All-Star in the process.
**
Like so many CBA franchises – the league churned through dozens of cities in the 1980's and 90's – the Bombardiers struggled financially in Worcester. John Ligums sold the Bombardiers to Pensacola, Florida interests in July 1986. The nomadic franchise became the Pensacola Tornados (1986-1991) and later played in Birmingham (AL), Rochester (MN) and Harrisburg (PA) before finally folding in 1995.
Steve Warshaw:
We did as well as we could in Worcester for two years.  It just couldn't work in Worcester.  It didn't have its own television station.  It didn't have it's own identity.  It was always sort of in the penumbra of Boston and the Celtics were the kings there.  They were always winning, winning, winning and the people in Worcester thought of themselves as a Boston suburb.  Worcester is not a great sports city.  Or rather it's not a great minor league city, I should say.
I remember Jim Drucker, the CBA Commissioner, came to me at the end of the second year and said "Can you squeeze any more blood out of this stone?"
And I said "Nope.  Time to sell it and get the hell out of here."
But having said that, we are hoping to pull of a 30-year reunion for the Bombardiers someday soon!
**
Pro basketball returned to Worcester in 1989 with the Worcester Counts, who lasted just one season in the World Basketball League.  You can read the story of the Counts here.
==Slideshow==
==Bay State Bombardiers Games on Fun While It Lasted==
==Key Figures==
==Downloads==
2013 FWiL Interview with former Bombardiers GM Steven Warshaw
==Links==
Continental Basketball Association Media Guides
Continental Basketball Association Programs
###