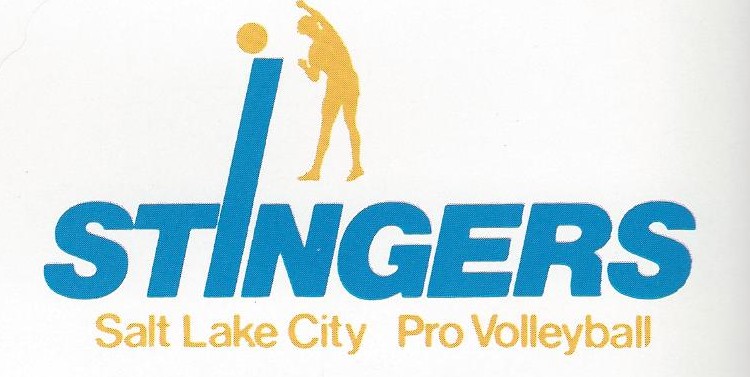 International Volleyball Association (1979-1980)
Born: March 1979
Folded: July 1980
Arena: The Salt Palace
Team Colors:
Owner: Don Sammis
The Salt Lake City Stingers were a brief entry in the International Volleyball Association (1975-1980), a West Coast-based co-ed pro volleyball league during the 1970's.  The team formed in early 1979, announced as the merger of the former Orange County Stars and San Diego Breakers franchises.  Whereas some IVA teams played in small high school arenas, the Stingers played their home matches in the 12,000-seat Salt Palace, which was also home to the Jazz of the NBA, newly arrived from New Orleans.
For the 1979 season, the Stingers signed a pair of top Olympians in Fernando de Avila (Brazil) and Stan Gosciniak (Poland), one of the world's premier setters.  But the club would lose Gosciniak midway through the season when the Community government of Poland called him home to coach a university team.  The Stingers finished 17-23 and out of postseason consideration.
In August 1979, The Deseret News reported that the Stingers averaged about 2,000 fans per match with about 400 season ticket holders.  These were relatively strong numbers by IVA standards and good enough for the team to plan on a second season.
Tony Lovitt – General Manager (1979-1980)
We were probably the most solvent team, not because we were selling a lot of tickets, but because of the deep pockets of our owner, a San Diego-based real estate mogul named Don Sammis.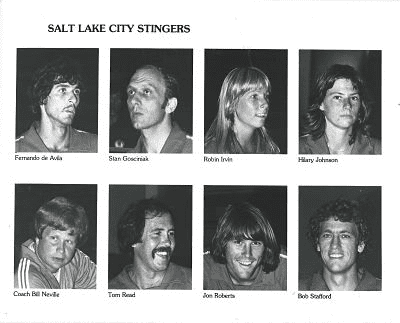 The IVA limped into its sixth season in May 1980 buffeted by a host of existential crises.  The league incurred a black eye in 1979 when federal agents arrested the owners of the Denver Comets club for drug trafficking. The league featured top male and female Olympians from all over the world.  But the Carter Administration's decision to boycott the 1980 Moscow Olympics following the Soviet invasion of Afghanistan deprived the IVA of a major promotional platform that investors had counted on for years.  And finally there was the condition of the franchises themselves, many of which were underfunded and bordering on insolvency.  The Seattle Smashers club folded just days before the 1980 season opened, forcing the schedule to be re-worked.  Teams in San Jose and Santa Barbara shut down midway through the season.
By July 1980 the IVA was in its death throes. The Stingers declined to travel to Denver for a scheduled match. That was effectively the end for the Stingers.  The rest of the IVA followed within a day or two.
Tony Lovitt
It was <Stingers owner> Don Sammis who, after the IVA folded, continued to be a benefactor of volleyball, attracting the USA men's volleyball team to San Diego to train for the 1984 Olympics.
Interviews
Tony Lovitt, former Stingers General Manager, interviewed in 2011
Links
International Volleyball Association Media Guides
International Volleyball Association Programs
##