American Association (1969-1981)
Born: 1969
Re-Branded: February 1, 1982 (Iowa Cubs)
Stadium: Sec Taylor Stadium
Team Colors:
Owner: Ray Johnston
The Iowa Oaks baseball team was a triple-A minor league club that played from 1969 to 1981 at Sec Taylor Stadium in Des Moines.  The franchise continues to exist today under the Iowa Cubs name.
During the Oaks era, the club was never especially competitive.  The Oaks only made the American Association playoffs once in thirteen seasons, advancing to the championship series in 1973, which they lost to the Tulsa Oilers.  The Oaks cycled through several Major League affiliations during the 1970's and early 1980's:
1969-1972: Oakland A's
1973-1974: Chicago White Sox
1975: Houston Astros
1976-1980: Chicago White Sox
1981: Chicago Cubs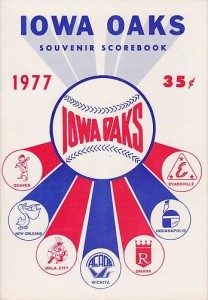 In April 1973, the Oaks signed 1968 American League Cy Young Award Winner and Most Valuable Player Denny McLain to a free agent contract.  The signing of the controversial McLain was made by the Oaks' local management, and not by their parent club at the time, the Chicago White Sox.  McLain was the last man to to win 30 games in the Major Leagues, which he did at age 24 with the World Champion Detroit Tigers in 1968.  He would share the Cy Young Award again in 1969.  But he was suspended for much of the 1970 season for participating in a book making operation and when he did return, his game suffered due to a sore arm.  He made his final Major League appearance in 1972 and after his brief comeback attempt in Iowa, McLain was out of pro baseball before age 30.
Before the start of the 1981 season, the Oaks' Major League affiliation passed from the Chicago White Sox to the Chicago Cubs.  After one final season under the Oaks name in 1981, the team was re-branded as the Iowa Cubs on February 1st, 1982.  The Iowa Cubs continue to serve as the top farm club of the Chicago Cubs to this day.
The re-branding of the team in the winter of 1981-82 coincided with the departure of longtime owner Ray Johnston, who founded the Oaks in 1969.  Johnston was offered a reported $600,000 by interests in Springfield, Illinois to sell and relocate the Oaks to that city.  But the team was saved by Ken Grandquist, a member of the Oaks' community steering committee since 1969, who spearheaded a local group to buy out Johnston for and save triple-A baseball for Des Moines.
Grandquist would own the Iowa Cubs for nearly two decades.  He died from complications of a stroke that he suffered in his skybox at Sec Taylor Stadium on opening day of the 1999 season.  He was 75 years old.
==Key Players==
Harold Baines
Vida Blue
Bucky Dent
Mike Easler
Goose Gossage
Mudcat Grant
George Hendrick
Willie Hernandez
LaMarr Hoyt
Tony LaRussa
Denny McLain
Joe Rudi
Pat Tabler
Manny Trillo
==Links==
American Association Media Guides
###