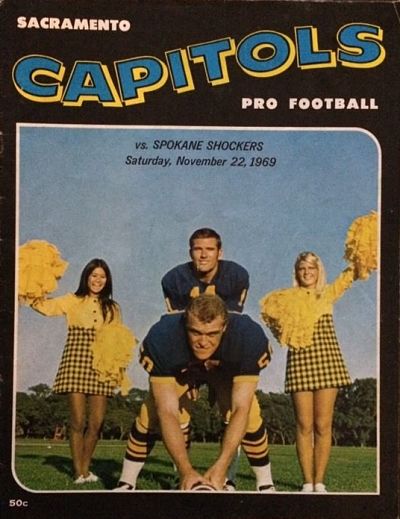 Continental Football League (1968-1969)
Born: 1968 –  CoFL expansion franchise
Folded: July 2, 1970
Stadium: Hughes Stadium
Team Colors:
Owner: Lee Balderelli
Continental Football League Championships: None
The Sacramento Capitols were a minor league football outfit that played two season in the California state capital at the end of the 1960's. The Caps played at Hughes Stadium on the campus of Sacramento City College.
The Capitols played in the Pacific Division of the Continental Football League (1965-1969). The CoFL was considered to be a step below both the AFL and the NFL during the late 1960's. Although CoFL membership stretched from coast to coast, teams tended to play exclusively within their regional division to save on travel costs. The Caps played teams from Seattle, Portland, Las Vegas, Orange County and Spokane, with few contests against Texas-based teams thrown in.
The Capitols posted a 5-7 record during their expansion season of 1968. In 1969 the Caps improved to 8-4 and made the playoffs. The Las Vegas Cowboys came into to Hughes Stadium on November 29th, 1969 and knocked the Caps out of the playoffs 31-0. This turned out to be the Capitols final game.
The Continental Football League folded following the 1969 season. The Capitols tried to organize for a 1970 season. It is not clear from press reports  in what circuit they hoped to play. On July 2nd, 1970 team owner Lee Balderelli announced the closure of the team citing disappointing season ticket subscriptions.
Sacramento Capitols Memorabilia
Links
Continental Football League Media Guides
Continental Football League Programs
###