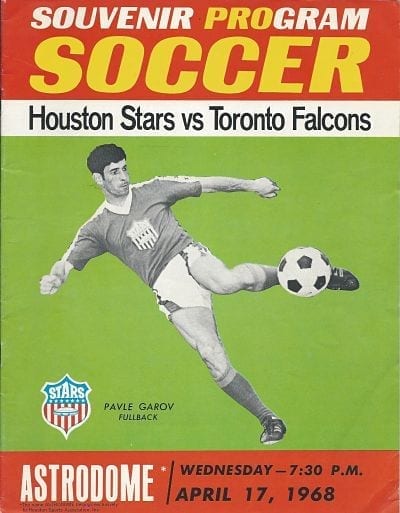 United Soccer Association (1967)
North American Soccer League (1968)
Born: 1967 – USA founding franchise
Folded: Postseason 1968
Stadium: Houston Astrodome (44,500)
Team Colors: Red, White & Blue
Owner: Judge Roy Hofheinz
USA Champions: None
NASL Champions: None
The Houston Stars were a short-lived pro soccer outfit of the late 1960's owned by the colorful Judge Roy Hofheinz, owner of Major League Baseball's Houston Astros and driving force behind construction of the Astrodome.
The Stars were, in fact, two separate clubs. The Stars were founding members of the United Soccer Association in 1967. The USA imported European and South American clubs who played in the States under pseudonyms.  The 1967 Houston Stars were actually Bangu Atletico Clube of Brazil.  The Stars finished 4-4-4, good for fourth place in the USA's Western Division.
After the 1967 season, the USA merged with its competitor, the National Professional Soccer League to form the North American Soccer League.  The NASL dispensed with the USA's practice of importing foreign teams.  The Stars hired Hungarian head coach Geza Henni, who assembled a multi-national squad that included Bermudans, Danes, Greeks, Hungarians, Mexicans and a large contingent of Yugoslavs. Jerry Mueller was the lone American-born player on the opening day roster.
The 1968 Stars posted a respectable 14-12-6 record, but it was not enough to advance in the NASL's stingy playoff system. The Stars folded after the 1968 season.
NASL soccer returned to Houston and the Astrodome ten years later with the formation of the Houston Hurricane (1978-1980).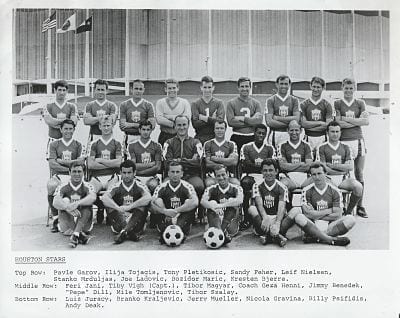 Houston Stars Shop
Rock n' Roll Soccer: The Short Life & Fast Times of the North American Soccer League by Ian Plenderleith
The Eighth Wonder of the World: The Life of Houston's Iconic Astrodome by Robert Trumpbour & Kenneth Womack
Houston Stars Memorabilia
Links
United Soccer Association Media Guides
United Soccer Association Programs
North American Soccer League Media Guides
North American Soccer League Programs
###