Forty years ago, four young boys were among those transfixed by the announcement of a new professional football league.  The World Football League and its brash young Commissioner Gary Davidson conjured visions of a worldwide sports organization, with teams one day spanning the globe from London to Tokyo.  (For the WFL's inaugural season in 1974, fans would have to be satisfied with a 12-team league that spanned the country from Jacksonville to Anaheim).
The WFL offered bold colors, such as the Southern California Sun's retina-scorching Magenta & Orange uniforms, innovative scoring system and rule changes, and a salary war with the NFL that was perhaps more entertaining than the action on the field itself.  The WFL provided a form of exceptionally high-risk free agency for NFL stars that were otherwise bound in perpetuity to their clubs by the Rozelle Rule.  Big name stars like Larry Csonka, John Gilliam and Paul Warfield jumped leagues.  The whole thing went bust in less than two full seasons, but the cult of the WFL lives on, thanks to historians, collectors and young boys now long grown who got their first taste of big-time professional football when the World Football League briefly blew through their town.
Now, decades later, four of those men have banded together to issue an eye-catching 40th anniversary trading card set covering the WFL's debut season in 1974.  Greg Allred, Richie Franklin, Bill Jones and Willie O'Burke combined photo archives culled from 20 years of networking with former players, officials and team photographs and curated this 70-card collection, which evokes the classic Topps bubble gum issues of the late 1960's and early 1970's.  Fun While It Lasted got an early look at the card designs and an opportunity to quiz the creators on this unique set.
FWIL:
Can you each explain how you came by your fascination with the World Football League?
Greg Allred:
As a 12 year-old in the state of Alabama, I was already a football fan in 1974, so when the WFL announced that Birmingham would have a team I was excited.  I had never been to a professional football game, so actually getting to go to a couple of the Birmingham Americans games was something that I would never forget and it gave them a permanent place in my heart and memory.
Richie Franklin:
I remember hearing about the WFL in October of 1973 when they announced the formation of the league.  I was 12 years old. I followed their 1974 WFL College and Pro Drafts.  It was the new logos, team nicknames, colorful uniforms, and the star NFL players making the jump to the new league.  I loved the TVS Sports Network's promos.  The Florida Blazers trained at Madison College (now JMU) in Harrisonburg, Virginia.  I live an hour away, and a guy from our hometown, Don Ratliff tried out for the Blazers and made the team.  I was also a huge fan of the mustard brown football with the orange stripes made by Spalding.  The WFL created a lot of excitement in 1974.
Willie O'Burke:
My dad was a big-time American Football League fan.  He loved the "underdog" quality of that league and passed that on to me.  We lived in Houston.  When the WFL came out and we found out Houston was getting a team, we were instant WFL fans.
Bill Jones:
I was raised in Anaheim, California.  When the Sun came to play at Anaheim Stadium, my father took me to my first professional football game.  I was hooked.  It was fan friendly, affordable, and colorful.  As I grew older, the concept of starting such a business venture, the behind the scenes actions and the historic similarities to the American Basketball Association and World Hockey Association became very interesting to me as well.
FWIL:
Color photos from the WFL are rather rare.  Can you describe the process of pulling the photos used in the set together over the years?
Richie Franklin:
Yes, color photos are very rare, and we used as many as we could find.  Sometimes you may have a great WFL photo, but we couldn't use it because we did not select that player for the set.  Over the years I have met a lot of former players and coaches from the WFL.  I also met a few team photographers.  I have been fortunate enough to receive photos from their collections.  We compiled photos and as a committee chose the best action shots or still pictures we had for each player.
Greg Allred:
It's always been such a long search for photos of any kind that relate to the WFL, so when we find a color photo it's a really big deal.  For me this has been a 20-plus year search for photos, so sometimes there are spans of time with no success, then there are spans with quite a bit of activity and fruitfulness…it's always exciting to find something new.  Willie, Bill, Richie, & I just basically decided to open our collections to each other and see what we had to work with. It a lot of was fun.
FWIL:
Do each/any of you have a "wish list" player you wanted to include, but couldn't because there were no quality photos?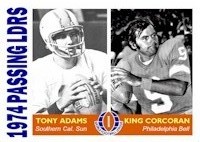 Richie Franklin:
Yes, unfortunately that did happened with a few players. There were many players we did not make cards for that were good WFL players, but quality photos are just as rare for black and white as they are for color pictures. We are starting to see more photos pop up on eBay and from private collections. Hopefully, we will locate a few quality photos for our Traded set and include cards of players we missed in Series I.
Bill Jones:
Not really.  If it were up to me, we would have had more Southern California Sun players, but I think all 4 of us have our favorite teams.  I think we came up with a very balanced representation of WFL players that made an impact in 1974.
Greg Allred:
I would like to have better photos of Tim Delaney of the Hawaiians. He is included in the set, but I sure would like to see a quality color photo of him. I am always amazed when we find photos that folks have had in their basements, attics, etc. for years. It gives me a little hope that there are more out there just waiting to be uncovered.
FWIL:
Have you heard reactions or reviews from any former players?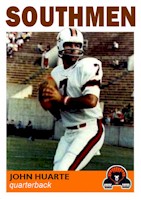 Richie Franklin:
I have heard from Upton Bell who was the owner of the Charlotte Hornets. Jere Brown, who was a linebacker for the Hornets, signed the guestbook on our Web site, along with Bob Rush of the Florida Blazers, Rick Cash of the Philadelphia Bell (1974) and San Antonio Wings (1975), and Don Van Galder of the Portland Storm. I also received a nice message from Bob Paschall of the Bell and Gary Wright who worked in the front office for the Southern California Sun in 1975. The overall reaction from everyone has been extremely positive and complimentary.
FWIL:
Are your plans for a 1975 Series and a Traded Series definite, or does that depend on the response to this first set?
Richie Franklin:
Yes, the Series II set is in the planning stages right now.  We are currently selecting players and gathering photos.  The big name NFL players who jumped to the WFL will be in Series II along with the top 1975 WFL rookies, such as Anthony Davis and Pat Haden. When we started this project we were looking to find ways to celebrate the WFL's 40th anniversary. The cards were something that we ourselves would want to collect in celebration of the WFL.
Willie O'Burke
This project is a labor of love for all of us, so I see us finishing series 2 & 3 regardless of series 1 sales.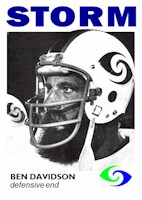 FWIL:
The production design, front and back, is striking and really evokes the classic Topps issues of the 1960's and 1970's. Was there a particularly set from the past that inspired the design elements of your set?
Bill Jones:
We had at least a dozen designs that we considered.  Ultimately, we wanted a classic, Topps-inspired design.  It was important to have team logos on the cards, and we really wanted to have a classic card stock look to the backs.  I think we accomplished all of that with this set.
Richie Franklin:
We took our time and exchanged many, many e-mails to come up with the best retro feel of the 70's. It was a total team effort and I think as a group we hit a homerun.

==Links== 
1974 WFL Trading Cards are available at WFLFootballCards.com
World Football League History Site curated by Richie Franklin & Greg Allred 
###