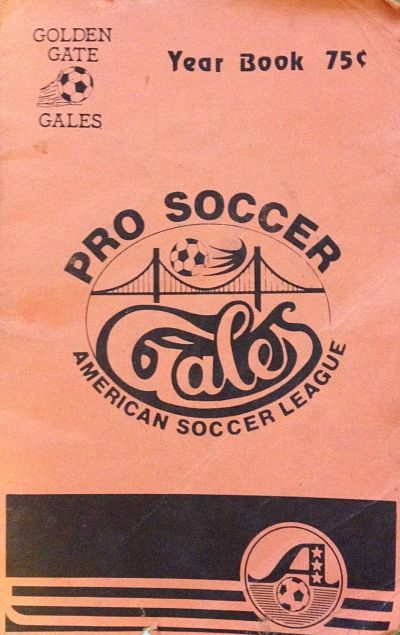 American Soccer League (1980)
Born: 1979 – ASL expansion franchise
Folded: Postseason 1980
Stadium: Tak Fudenna Stadium
Team Colors:
Owner: Frank Szantho
ASL Championships: None
The Golden Gate Gales were an ultra-obscure 2nd Division pro soccer club, which existed for only one season in the American Soccer League (1933-1983).  A bare bones Wikipedia entry claims the Gales played "most" of their home matches at Tak Fudenna Stadium, a high school facility in Fremont, California.
Other than that, virtually no information about this club is available on the internet and I've never unearthed any memorabilia from the team, except for the low-budget ticket pamphlet shown at right.
The Gales best player was English forward and University of San Francisco grad Mal Roche, who scored 17 goals for Golden Gate to lead the American Soccer League in scoring in 1980.  The rest of the team wasn't quite so proficient. The Gales finished their only season with the worst record in the league at 8-14-5.  The club went out of business sometime during the fall/winter of 1980-81.
Golden Gate Gales Shop

American Soccer League Logo T-Shirt by Ultras
Links
American Soccer League Media Guides
American Soccer League Programs
###