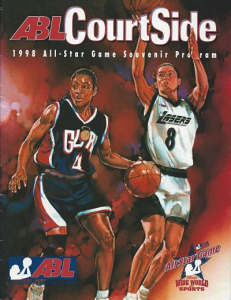 American Basketball League All-Star Game
January 18, 1998
Disney Wide World of Sports Complex
Attendance: 4,189
American Basketball League Programs
40 pages
Rare program from the second – and, as it turned out, final – All-Star game for the short-lived American Basketball League (1996-1998), played at Disney's Wide World of Sports Complex in Orlando in January 1998.
Atlanta Glory player-coach Teresa Edwards and San Jose Lasers star Jennifer Azzi are pictured in the eye-catching cover illustration.
The game itself was something of a dud.  The West All-Stars led 54-27 at the half and ran away with the game in a 102-73 laugher.  Shalonda Enis (15 pts.) of the Seattle Reign earned MVP honors, but the real star of the weekend was 6′ 5″ forward Sylvia Crawley of the Colorado Xplosion.   Crawley won what was billed as the first ever women's slam dunk contest during the halftime festivities, besting 6′ 7″ Kara Wolters of the New England Blizzard with a successful blindfolded, one-handed dunk on her first try.  Crawley had been dunking in practice since her freshman year at the University of North Carolina, but had never dunked in a professional game.
Dawn Staley of the Philadelphia Rage won the 3-point contest.
Before the game, American Basketball League CEO Gary Cavalli told the media of his hope that the ABL's next All-Star Game would be an inter-league exhibition against the stars of its bigger and richer rival, the Women's National Basketball Association.  But there would be no more ABL All-Star Games.  The troubled league ran out of money 11 months later and folded on December 22, 1998.
==Downloads==
1998 American Basketball League Eastern Conference All-Star Roster
1998 American Basketball League Western Conference All-Star Roster
###