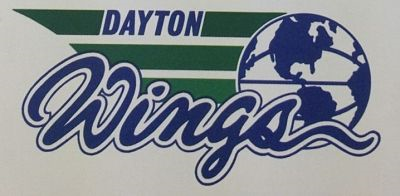 World Basketball League (1991-1992)
Born: 1991 – WBL expansion franchise.
Folded: August 1, 1992
Arena: Ervin J. Nutter Center (10,632)
Team Colors: Blue & Green
Owner: Milton Kantor
WBL Champions: 1991
The Dayton Wings were a short-lived minor league basketball team in the World Basketball League (1988-1992).  The WBL was a league for players 6′ 5″ and under (raised to 6′ 7″ in the final season of 1992) where guard play ruled and defense was anathema.
The Wings, owned by local grocery chain owner and basketball nut Milton Kantor, were an expansion team in 1991.  They quickly established themselves as one of the best teams in the WBL, winning their division with a 36-15 record and then defeating the Calgary 88's in the 1991 WBL championship series. Key players included minor league warhorse Alfredrick Hughes and former Georgetown guard Perry McDonald.
During the Wings second season in the summer of 1992, the team raced out to the best record in the league at 26-7.  But late in the season, investigators discovered that league founder and owner of the Youngstown Pride franchise Mickey Monus embezzled approximately $10 million from his Phar-Mor discount pharmacy chain to prop up the money-losing WBL.  Monus' fellow WBL owners were unaware of the scheme, but were also dependent on the money that the Pride owner had been pumping into league coffers.  Amidst the scandal, the league shutdown on August 1, 1992 without managing to complete its fifth season of operations.
==In Memoriam==
Former Wings owner Milt Kantor passed away on December 23, 2012 at age 85.
==Downloads==
Justia case summary: United States of America vs. Michael I. Monus
2012 interview with former WBL Director of Public Relations Director Jimmy Oldham
1992 Newsweek Mickey Monus Profile 1992 Business Week Profile of Mickey Monus
==Links==
World Basketball League Media Guides
World Basketball League Programs
###