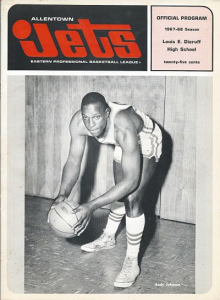 Allentown Jets vs. Wilmington Blue Bombers
April 6, 1968
Louis E. Dieruff High School
Attendance: ?
Eastern Basketball Association Programs
32 pages
Deciding Game 3 of the 1968 Eastern Basketball Association (1946-1978) semi-final playoff series between the Allentown (PA) Jets and the Wilmington Blue Bombers from Delaware.   The Jets bested the Bombers 132-111 to advance to the championship series, where they would ultimately knock off the Wilkes-Barre (PA) Barons to win the 1968 league crown.
Although confined to high school gyms Pennsylvania and a few neighboring states, the EBA was the country's top minor league, playing just one notch below the NBA and the fledgling American Basketball Association.  The EBA helped guys like Mike Riordan make it to the NBA.  Riordan spent the winter of 1967-68 in Allentown with the Jets as a rookie out of Providence College.  A few months later Riordan earned a roster spot with the New York Knicks and spent the next decade in the NBA, winning a championship with New York in 1970.
More often though, the EBA was a destination for players on their way down from the NBA.  Jets captain Andy Johnson, posed on the evening's game program, was one such player.  Johnson had a strange career.  He was drafted into the Korean War after college at the University of Portland.  After the war, he spent some time with the Harlem Globetrotters before finally making it to the NBA with the Philadelphia Warriors in 1958.  He spent four seasons in the league, before being shipped off to the Philadelphia Tapers of the short-lived American Basketball League in 1962 on the eve of his fifth campaign.  After the ABL folded, Johnson never got another shot at the NBA and played out the remaining half dozen years of his pro career as a fan favorite in Allentown, earning $75 a night.
As the NBA's fortunes surged in the late 1980's, efforts were made to broaden the league's pension system to take care of aging players from the league's pioneer days.  The cut off for a pension was five seasons, which brought the tangled path of Andy Johnson's career to the attention of New York Times writer George Vecsey.  Johnson was a year short.  Military veterans who went directly to the NBA out of the service were apparently credited with time served towards their pension.  But because Johnson went first to the Globetrotters, his two years in the service were not counted.  Nor was the season he played in the American Basketball League after an odd transaction that Johnson characterized as a "loan" from the NBA's Chicago Packers to the ABL's Philadelphia Tapers.
Andy Johnson passed away in 2002.  His son Mark Johnson published a biography of his father entitled Basketball Slave: The Andy Johnson Story in 2010:
==Links==
###