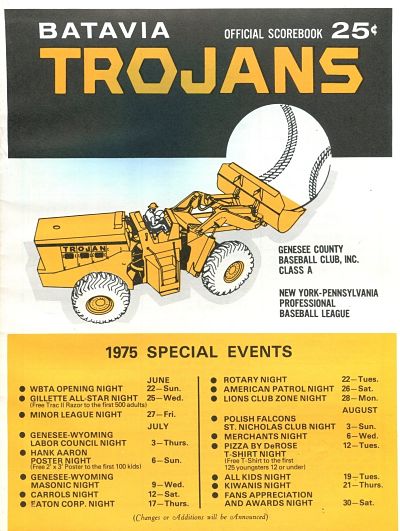 New York-Penn League (1966-1987)
Born: 1966
Re-Branded: 1988 (Batavia Clippers)
Stadium: MacArthur Stadium / Dwyer Stadium
Major League Affiliations:
1966: Co-op
1967: Philadelphia Phillies
1968-1971: Detroit Tigers
1972-1974: New York Mets
1975: Co-op
1976-1986: Cleveland Indians
1987: Co-op
Operator: Genesee County Baseball Club, Inc. (Community-owned)
New York-Penn League Championships: None
The Batavia Trojans were a community-owned baseball club that played for 22 seasons in Western New York. The club, formed in 1966, took its name from the Trojan wheel loader tractors manufactured in Batavia at the Yale and Towne plant. Pictures of the tractors frequently adorned the team's programs and marketing materials up through the 1980's.
The team lost its Major League affiliation in 1987 following a decade-long stretch as a Cleveland Indians farm club. The following summer, the franchise took back the Batavia Clippers name used by the city's original Pony League club from 1939 to 1953. The former Trojans/Clippers ball club continues to play today as the Batavia Muckdogs. However, the money-losing club's future has been cloudy for years and is likely not long for Batavia.
Batavia Trojans Memorabilia
Links
New York-Penn League Media Guides
###