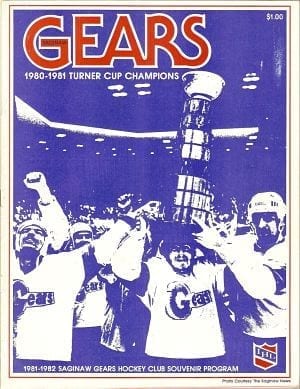 International Hockey League (1972-1983)
Born: 1972 – IHL expansion franchise.
Folded: June 1983
Arena: Saginaw Civic Center (5,466)
Team Colors: Tangerine, White & Blue
Owners: 
Turner Cup Champions: 1977 and 1981
This mid-Michigan-based minor league hockey outfit enjoyed a solid run from the mid-1970's to the early 1980's in the scrappy International Hockey League. The Saginaw Gears reached the IHL's Turner Cup finals five times between 1974 and 1982, winning twice.
Saginaw goaltenders Mike Palmateer (Gears '74-'75), Mario Lessard (Gears '74-'77), Bob Froese (Gears '78-'81) all went on to lengthy NHL careers.
Wes Oleszewski, whose father Walt was the Gears' Zamboni driver from 1972 to 1983, has a terrific tribute site to the team at www.saginawgears.com.
Saginaw Gears Memorabilia
Saginaw Gears Video
A 2010 Saginaw Gears tribute produced by the Saginaw Spirit of the Ontario Hockey League
Links
Wes Oleszewski's Saginaw Gears Tribute Site
International Hockey League Media Guides
International Hockey League Programs
##