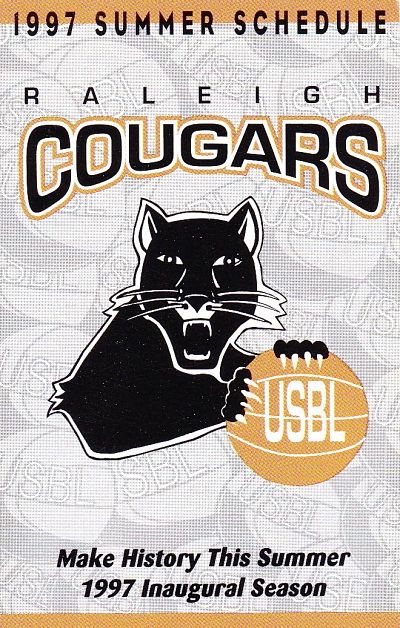 United States Basketball League (1997-1999)
Born: 1997
Folded: June 7, 1999
Arena: Dorton Arena
Team Colors:
Owner: Clyde Austin
USBL Championships: None
The Raleigh Cougars low-level minor league basketball outfit founded by former N.C. State star and Harlem Globetrotter Clyde "The Glide" Austin. The team's name recalled the old Carolina Cougars club that played in the American Basketball Association in the early 1970's. The original ABA Cougars played in various arenas around North Carolina, including Raleigh's Dorton Arena, where Austin's team set up shop a quarter century later.
The Cougars' biggest name was Lorenzo Charles, who famously slammed home a buzzer-beating dunk to life N.C. State to the 1983 NCAA championship over the University of Houston.
As the Cougars prepared for their third season in the United States Basketball League in 1999, it was clear that something wasn't right. The team held no training camp. Clyde Austin no-showed a league owner's meeting and bounced his payroll. The Raleigh Cougars managed to play 13 games, posting a 5-8 record, before USBL Commissioner Daniel Meisenheimer euthanized the club on June 7th, 1999 with two weeks remaining in the regular season.
It later emerged the Clyde Austin was running a multi-state pyramid scheme during the time he was involved in the USBL. Serving as a pastor in churches from North Carolina to Nevada, Austin swindled parishioners out of an estimated $16 million between 1996 and 2000. He was sentenced to 17 years in prison in 2004.
Links
##