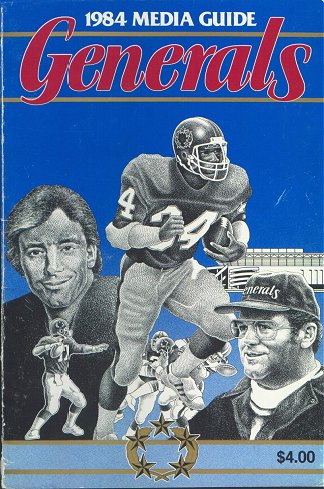 United States Football League (1983-1985)
Born: May 11, 1982 – USFL founding franchise.
Folded: August 1986
Stadium: Giants Stadium
Team Colors:
Owners:
USFL Championships: None
Text coming soon…
New Jersey Generals Shop
Generals Retro T-Shirt by Throwback Max
Generals Doug Flutie Retro T-Shirt by A&E Designs
Just published! One of FWIL's Top Sports Books of 2017
New Jersey Generals Memorabilia
Generals Video
New Jersey Generals vs. Houston Gamblers at Giants Stadium. April 7, 1985.  Doug Flutie vs. Jim Kelly.
In Memoriam
Linebacker Rod Shoate (Generals '83) died of AIDS on October 4, 1999. The former Oklahoma Sooner was 46.
General Manager Jim Valek died on September 4, 2005 at age 77.
Original Generals owner J. Walter Duncan died of Parkinson's disease on February 21, 2009 at the age of 92.
Linebacker Ray Costict (Generals '83) passed away at age 56 on January 3, 2012.
Head Coach Chuck Fairbanks (Gens '83) passed on April 2, 2013 of brain cancer. Fairbanks was 79.
Links
###