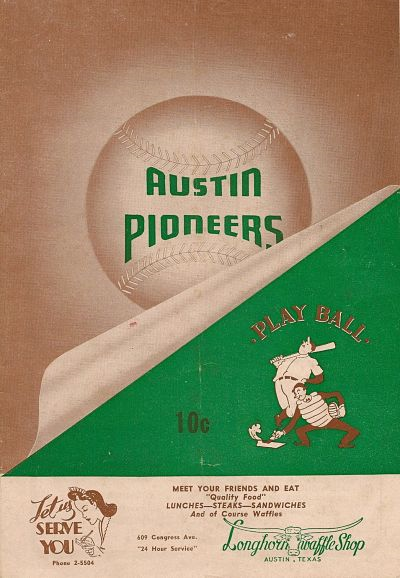 Big State League (1947-1955)
Born: February 1947 – Big State League founding franchise.
Died: 1955
Stadium: Disch Field
Major League Affiliation:
Owner: Ed Knebel
Big State League Championships: None
The Austin Pioneers were a minor league baseball team in postwar Austin, Texas that lasted for nine seasons between 1947 and 1955.  The Pioneers were a founding member of the Class B Big State League (1947-1957).
Club owner Edmund P. Knebel was a local bottler of 7-Up and Nu-Grape.  He was also a baseball lover who financed construction of Austin's Disch Field, which was rapidly erected in the winter of 1947 to allow for the Pioneers to begin play that April.  Prior to forming the Pioneers in 1947, Knebel sponsored semi-pro 7-Up baseball teams in Austin and was part of a previous effort to bring the Texas League to Austin, only to see those plans foiled by the outbreak of World War II.
The Big State League started out with eight teams in the spring of 1947.  The Western Division consisted of four newly formed teams: Austin, Gainesville, Waco and Wichita Falls.  By contrast, all four teams in the Eastern Division were veteran defectors from the East Texas League.  Not surprisingly, the Eastern clubs dominated the league in 1947.  Austin finished 7th overall, besting only the Waco Dons.
During their nine seasons of existence, the Pioneers rarely competed for the league crown.  Their best season was in 1952 – a 4th place finish at 81-66 under player/manager Tom Jordan.  Austin was one of the largest cities in the Big State League though, and they often ranked near the top of league box office figures, according to Alan C. Atchison, a history professor at Southwest Texas State University, who wrote a great retrospective on the Pioneers forSouthwestern Historical Quarterly in October 1999.  Atchison states that the Pioneers set the Big State League season attendance record of 188,1983 fans in 1949.
After the Pioneers' 9th season in 1955, owner Ed Knebel sold the Austin territorial rights to Allen Russell, owner of the Beaumont Exporters in the higher level (Class AA) Texas League.  Russell brought his Texas League franchise to Austin for the 1956 and re-named his club the Austin Senators (1956-1964).
Links
"When Every Town Big Enough to Have a Bank Also Had a Professional Baseball Team: The Game Returns To Austin After WWII", Alan C. Atchison,Southwestern Historical Quarterly, October 1999
###