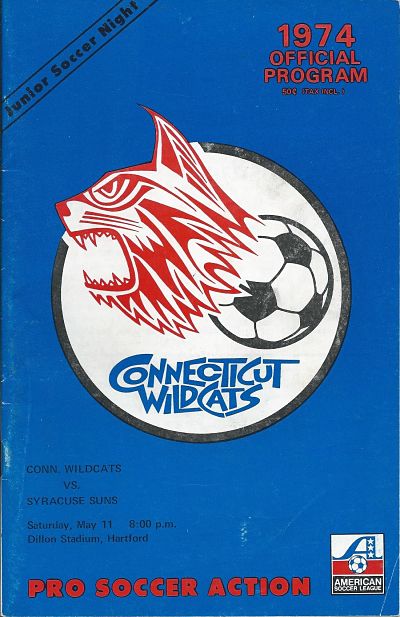 American Soccer League (1973-1974)
Born: November 1972 – ASL expansion franchise
Folded: Postseason 1974
Stadium: Dillon Stadium
Team Colors:
Owner: Paul Ingram
ASL Championships: None
The Connecticut Wildcats were the first of several pro soccer clubs to set up shop at Hartford's Dillon Stadium during the mid-1970's. The club formed in November 1972 as an expansion franchise in the 2nd Division American Soccer League.
Paul Ingram, a former All-American soccer player at UConn, founded the Wildcats and served as General Manager. Fielding a team of mostly American players, the Wildcats put up an 8-3-3 record in their debut season. The club was solid at the box office too. The 'Cats drew 4,200 fans for their inaugural game in the spring of 1973. 10,000 more showed up for the season finale at Dillon Stadium against the Boston Astros. The ASL named Paul Ingram its Executive-of-the-Year for the 1973 season.
Benny Brewster led the team in scoring in 1973 with 10 goals and 4 assists. The Wildcats best-known player, in retrospect, was the young goalkeeper Tony DiCicco. DiCicco went on to become one of the greatest coaches in the women's game, leading the U.S. Women's National Team to Olympic gold in 1996 and the World Cup in 1999.
As the Wildcats second season approached in the winter of 1974, Ingram asked for a renegotiation of the team's rental agreement at Dillon Stadium. He stated the team's rental rate and lack of revenue sharing on concessions were among the worst deals in the American Soccer League and that the team might need to relocate to Springfield, Massachusetts.  In the event, the Wildcats did end up returning to Dillon in 1974, but it proved to be the club's final campaign.
The Wildcats were replaced on the ASL's 1975 schedule by a new Hartford-based club, the Connecticut Yankees (1975-1978). Hartford also got a 1st division expansion club in 1975 with the formation of the Hartford Bicentennials (1975-1976) of the North American Soccer League.
Connecticut Wildcats founder Paul Ingram was inducted into the Connecticut Soccer Hall of Fame in January 2004.
Connecticut Wildcats Shop
American Soccer League Logo T-Shirt by Ultras
Links
American Soccer League Media Guides
American Soccer League Programs
##