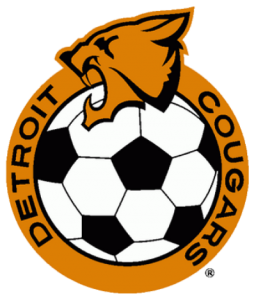 United Soccer Association (1967)
North American Soccer League (1968)
Born: 1967 – USA founding franchise.
Folded: September 23, 1968.
Stadiums:
Team Colors: Black, Orange & White
Owners: William Clay Ford, John Fetzer, Ozzie Olson, Max Fischer, John Anderson & Wendell Anderson
The Detroit Cougars were a short-lived effort to bring pro soccer to Detroit in the late 1960's. Detroit Lions owner William Clay Ford, grandson of Henry Ford and largest single stockholder in the Ford Motor Co., and Detroit Tigers owner John Fetzer headlined the list of financial backers for the Cougars.
The Cougars formed in 1967 as one of twelve founding members of the United Soccer Association (USA).  The USA was one of two U.S. pro leagues formed in 1967, the other being the rival National Professional Soccer League (NPSL).  In order to keep pace with the NPSL's 1967 launch date, the USA elected to import entire European and South American clubs to compete under stage names during the 1967 season.  (The USA's spring/summer schedule conveniently coincided with the offseason for Continental and South American leagues).
The 1967 Detroit Cougars were actually Glentoran F.C. of Northern Ireland.  The Cougars/Glentoran finished out of contention at 3-6-3.
Ian Thomson over at The Soccer Observer blog has a great piece on a 1967 riot at the University of Detroit Stadium between the Cougars and the visiting Houston Stars (actually Bangu of Brazil).
After the 1967 season, the USA and NPSL ended their competition and merged to form the 17-club North American Soccer League.  In 1968 each franchise assembled a roster in the conventional manner. The new league abandoned the USA's practice of importing foreign clubs.
The Cougars hired 34-year old English forward Len Julians as player-coach for the 1968 campaign.  The season was a disaster for the Cougars. Julians resigned in mid-August with the club mired in last place in the NASL's Lakes Division.  Andre Nagy was hired to manage the final meaningless games as the Cougars finished 6-21-4.  Only the hapless Dallas Tornado (an historically awful 2-26-4 mark) were worse in the 17-team circuit.
At the box office the situation was just as grim.  Although the American Soccer History Archives has the Cougars average attendance at 4,266 in 1968, the Associated Press reported in September 1968 that Cougars fans numbered fewer than 1,500 per game. The Cougars' well-heeled backers pulled the plug on September 23, 1968.  Detroit was the first NASL club to fold after the 1968 season and it began an exodus that saw the league shrink down to just five active clubs in 1969.
Pro soccer returned to Detroit a decade later with the formation of the NASL's Detroit Express in 1978.
Detroit Cougars Memorabilia
Links
"The Infamous 1967 Detroit Riot … On The Soccer Field", Ian Thomson, The Soccer Observer, June 14, 2013
United Soccer Association Programs
North American Soccer League Media Guides
North American Soccer League Programs
###