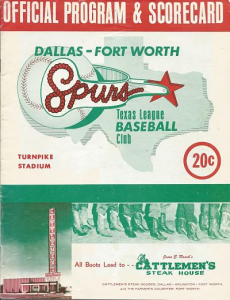 Texas League All-Stars vs. Houston Astros
July 15th, 1965
Turnpike Stadium (Arlington, Texas)
Attendance: 11,076
Texas League Programs
28 pages
Wouldn't it be great if Major League Baseball teams still did things like this?  Sadly, the mid-season exhibition has followed the same road to extinction as the twi-night doubleheader.
The tradition of Houston's Major League team facing the Class AA Texas League All-Stars dated to 1962 when the Houston Colt .45s joined the National League as an expansion franchise.  The Texas Leaguers swept the Colt .45s three straight years from 1962 to 1964.  It would take a name change for the National League club to beat the minor leaguers.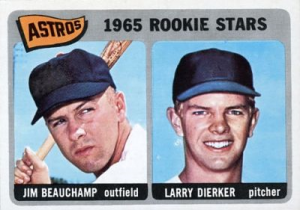 In 1965 the Colt .45s became the Houston Astros with the opening of the Houston Astrodome.  The Astros were loaded with exciting young players including future Hall-of-Famer Joe Morgan, Rusty Staub, Jim Wynn and 18-year old pitching phenom Larry Dierker, who started this game and held the Texas League All-Stars to only one run through seven innings.
On this same night, the San Francisco Giants played an exhibition in Tacoma, Washington against their Class AAA Pacific Coast League farm club there.  The Giants sat out superstars Willie Mays and Willie McCovey.  But the Astros played their talent, much to the delight of the overflow crowd of 11,076 fans at Turnpike Stadium in Arlington, home of the Texas League's popular Dallas-Fort Worth Spurs (1965-1971) franchise.  The Spurs were owned by American Football League founder Lamar Hunt and drew more fans than any minor league baseball team in the country in the summer of 1965.
The game was a pitcher's duel that was knotted at 1-1 after nine innings.  In the 11th, Tulsa Oilers catcher Dave Pavlesic, whose earlier passed ball contributed to the Astros' lone score, committed a throwing error that allowed in the go-ahead run and opened the floodgates for a four-run Astros outburst.  Houston won the game 5-1, beating the minor league stars for the first time in four annual attempts.
Key players for the Texas Leaguers included pitcher Jack Billingham, who would go on to win 87 games for the Big Red Machine in the 1970's, and outfielder Walt Williams, a former Colt .45s prospect who played the better part of a decade in the Majors with a handful of teams.
Missing was 20-year phenom Don Sutton, playing his first summer of pro ball with the Albuquerque Dodgers.  Sutton would be one of the Texas League's dominant arms at 15-6 with a 2.78 ERA in 1965.  But at the time of the All-Star Game in mid-July, Sutton's record was 5-4 and he was seemingly overlooked.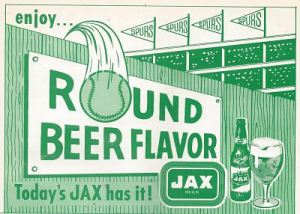 ==Downloads==
July 15, 1965 Texas League All-Stars vs. Houston Astros Roster Insert
==Links==
More Major League vs. Minor League Baseball Exhibitions
Dallas-Fort Worth Spurs Home Page
###