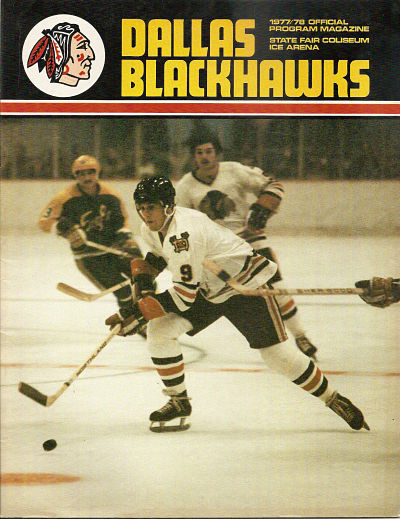 Central Hockey League (1967-1982)
Born: June 10, 1967 – The St. Louis Braves relocate to Dallas, TX.
Folded: 1982
Arena: State Fair Coliseum (7,513)
Team Colors: Red, Black & White
Owner:
Adams Cup Champions: 1969, 1972, 1974 and 1979
The Dallas Black Hawks were a minor league hockey club that played 15 seasons in the Central Hockey League (1963-1984).  From 1967 to 1978, Dallas was a farm club of the NHL's Chicago Blackhawks.  During their final four seasons, they provided players for the Toronto Maple Leafs, Vancouver Canucks and Edmonton Oilers.
The Black Hawks were a powerhouse in the Central League, appearing in the Adams Cup championship series in ten of their fifteen seasons.  They won the championship four times: 1969, 1972, 1974 and 1979.   The Black Hawks first three Adams Cup victories came under the direction of Head Coach Bobby Kromm, who helmed the club for eight seasons from 1967 to 1975.  Kromm went on to the majors in 1975, coaching the Winnipeg Jets to a World Hockey Association championship in 1976.  He later coached the Detroit Red Wings of the NHL from 1977 to 1980.  Long-time minor league coach John Muckler was behind the bench when the Black Hawks won their fourth and final championship in 1979.  Muckler would later coach the Edmonton Oilers to the Stanley Cup in 1990.
Another notable coach for the 'Hawks was Roger Neilson.  Neilson coached the team for one season only (1976-77) before moving on to the NHL, where he coached 1,000 games between 1977 and 2002.  He was inducted into the Hockey Hall of Fame in 2002.
Throughout their history, the Black Hawks engaged in a heated rivalry with the Central League's nearby Fort Worth franchise, which was known as the Wings from 1967-1974 and the Texans from 1974 to 1982.  The Dallas and Fort Worth clubs both folded in the spring of 1982, ending the CHL's greatest geographic rivalry and boding ill for the overall health of the league.  The CHL itself folded two years later in May 1984.
==Slideshow==
==Dallas Black Hawks Programs on Fun While It Lasted==
==In Memoriam== 
Roger Neilson, coach of the Black Hawks for the 1976-77 campaign, died of cancer on June 21, 2003.  He was 69 years old.
Former Black Hawks center Jim Stanfield passed away passed away on November 19, 2009 at age 62.
Bobby Kromm, Black Hawks head coach from 1967-1975, died of cancer on
Gord Fashoway coached the Black Hawks during the 1975-76 season.  He passed on May 1, 2012, age 85.
==Links==
Central Hockey League Media Guides
Central Hockey League Programs
###