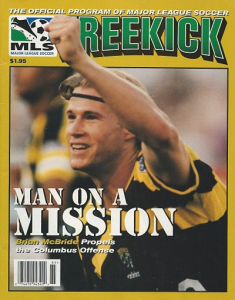 Major League Soccer (1996-Present)
Founded: 1994 – Major League Soccer founding franchise
Stadiums:
Team Colors:
Investor-Operators:
MLS Cup Champions: 2008
U.S. Open Cup Champions: 2002
The Columbus Crew began play in 1996 as one of the ten founding franchises of Major League Soccer.  The Crew were backed by Lamar Hunt, the iconic American sports entrepreneur and long-time patron of professional soccer in the United States.  After three seasons at Ohio State University's massive 102,000-seat American football coliseum, the club moved into Crew Stadium in 1999. Crew Stadium was the first professional soccer-specific stadium opened in the United States and signaled the start of a stadium construction boom in the early 2000's that vastly elevated the status of pro soccer in America.
At the end of the 2014 season, the Crew underwent a modest re-branding, changing their formal identity to Columbus Crew SC.
Columbus Crew Programs 1996-1999
Columbus Crew Programs 2000-2009
Collector Notes
Throughout the 1990's, all of Major League Soccer's clubs sold a match day program known as Freekick. Freekick was a pretty crummy production. The magazine-style covers were nice enough, but the inside was printed on cheap black-and-white newsprint.
Along with the rest of MLS, the Crew shifted to a smaller Playbill-style format during the 2000's, also known as Freekick.  These were typically produced only about four times per season, with each edition covering four to five matches.  On the upside, the interiors were now on decent paper with full color photography.
In recent seasons, the Crew have abandoned the centralized Freekick format of MLS' early years and produced their own programs (now known as Match Day) in unconventional brochure-style formats. For example, each 2013 edition of Match Day folds out roadmap-style into a large player poster.
The Crew also printed attractive annual media guides from 1996 until at least 2008.  The club seems to have shifted to digital (.pdf) media guides only in the late 2000's, following the trend of most MLS clubs.
Columbus Crew Programs 2010-Present