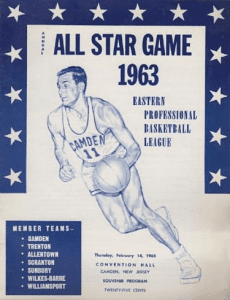 Camden Bullets vs. Eastern Professional Basketball League All-Stars
February 14, 1963
Convention Hall
Attendance: 2,000
Eastern Professional Basketball League Programs
8 Pages
Stellar vintage scorecard from the 1963 Eastern Professional Basketball League All-Star Game, played before a small crowd of around 2,000 in Camden, New Jersey on Valentine's Night.  The exhibition pitted the host Camden Bullets (1961-1966) against an All-League squad from the other six clubs in the New Jersey/Pennsylvania bus league.
The Bullets boasted the best player in the Eastern League in former 10-time NBA All-Star Paul Arizin.  Arizin was Philly through and through, a native son of the city who played college ball at Villanova and then spent his entire NBA career with the Philadelphia Warriors.  When the Warriors left town for San Francisco in 1962, Arizin decided to retire from the NBA rather than move West with the franchise.  At the time of his retirement, Arizin was the 3rd highest scorer in NBA history, despite missing two full seasons in his prime to serve in Korea.
After the Warriors departed, Paul Arizin played three more seasons for the minor league Bullets before retiring from pr0 ball in 1965.  On this night in 1963, he led all scorers with 35 points and added 16 rebounds in Camden's 122-114 victory over the All-Stars.  He would go onto win Eastern League MVP honors in 1963.  His Camden teammate Bobby McNeill, however, was the MVP of this game, with 32 points, 12 assists and 7 boards.
Paul Arizin was inducted into the Basketball Hall of Fame in 1978 and chosen as one of the 50 Greatest Players in NBA history in 1996.  He passed away in 2006 at age 78.
##