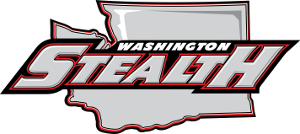 National Lacrosse League (2010-2013)
Born: June 17, 2009 – The San Jose Stealth relocate to Everett, WA.
Died: June 27, 2013 – The Stealth relocate to Langley, BC.
Arena: Comcast Arena (8,500)
Team Colors: Black, Red & White
Owner: Denise Watkins & Bill Watkins
Everett, Washington's Comcast Arena was the third stop for this wandering box lacrosse franchise, which began play in upstate New York as the Albany Attack back in 2000.  After four seasons in Albany, the franchise moved across the country to the Bay Area and became the San Jose Stealth in 2004.   Current owners Bill & Denise Watkins purchased the club in 2007 while it was languishing with the worst attendance in the league at San Jose's HP Pavilion.
The Watkins' moved the franchise to Everett following the 2009 season.  Everett was by far the smallest market in the National Lacrosse League, which takes pains to avoid being tagged as a "minor league".  Accordingly, the franchise took on the regional "Washington Stealth" identity and hoped to draw fans from throughout the Puget Sound region.
The Stealth were an outstanding team on the carpet.  During their four seasons in Everett, the Stealth appeared in the NLL Championship Game three times, winning in 2010 and losing in 2011 and 2013.  The exception was a demoralizing 2012 season, which saw Head Coach Chris Hall miss part of the season after a throat cancer diagnosis.  The Stealth went into a nose dive and finished dead last with a 4-12 record.
With Hall back for a full season at the helm in 2013, the Stealth returned to the NLL final against the Rochester Knighthawks.  Although the Stealth earned the right to host the title game, Comcast Arena in Everett was unavailable due to a schedule conflict.  They were forced to move the game 90 miles north to the Langley Events Centre in Langley, British Columbia.  There, the Stealth lost to Rochester 11-10 in a closely contested game before 5,200 fans (see complete game video below).
Despite the on-field success, the Stealth were a loser at the box office in Everett, which turned out to have all of the limitations of a minor league market despite the NLL's assertions to the contrary.  Six weeks after the 2013 title game, the Stealth announced a permanent relocation to the Langley Events Centre.  The franchise will be known as the Vancouver Stealth beginning with the 2014 season.
==Stealth Games on Fun While It Lasted==
Year
Date
Opponent
Score
Program
Other
2010
1/9/2010
vs. Colorado Mammoth
W 17-8
Program
2010
1/22/2010
vs. Buffalo Bandits
W 13-11
Program
2010
2/5/2010
vs. Minnesota Swarm
W 12-9
Program
==YouTube==
The Stealth and the Rochester Knighthawks meet in the 2013 NLL Championship Game at Langley, British Columbia. May 11, 2013.
Stealth vs. Colorado Mammoths at Comcast Arena. February 18, 2011.
==Downloads==
2012 National Lacrosse League Attendance Summary
==Links==
National Lacrosse League Media Guides
National Lacrosse League Programs
###