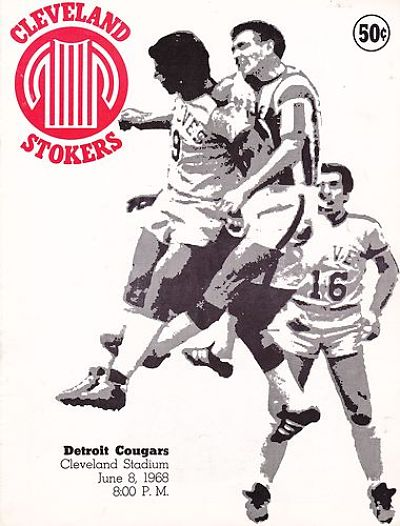 United Soccer Association (1967)
North American Soccer League (1968)
Born: August 1966 – USA founding franchise
Folded: Postseason 1968
Stadium: Cleveland Stadium (78,000)
Team Colors: Red & White
Owners:
USA/NASL Championships: None
The Cleveland Stokers were Cleveland's first professional soccer team of real significance.   The club began play in 1967 in the United Soccer Association (USA), a league which grew up out of the enthusiasm of the 1966 World Cup.  The USA imported entire teams from Europe and South America (who were in their off-seasons during the summer months) to represent member cities.  The Stokers were actually Stoke City F.C. from England.  Frozen foods mogul Vernon Stouffer, who also owned the Cleveland Indians at the time, was the club's original backer.
The Stokers/Stoke City were mediocre in 1967 posting a 5-3-4 record.
In 1968 the USA merged with the rival National Professional Soccer League (NPSL) to form the North American Soccer League.  The NASL took the more conventional route of assembling rosters player-by-player, rather than importing foreign teams to play under aliases.  So Stoke City didn't return to Cleveland for the 1968 season, although the Stokers name endured.  Much of the Stokers' 1968 roster came from remnants of a recently disbanded NPSL team, the Philadelphia Spartans.
Meanwhile, in early 1968, Stouffer sold the Stokers to Howard Metzenbaum and Ted Bonda (future Indians owners themselves).  The team improved markedly in 1968, with a 14-7-11 record and a trip to the playoffs.  The Stokers lost to the eventual champion Atlanta Chiefs in a two-game semi-final playoff series.   A highlight of the 1968 season was a July 10, 1968 visit to Cleveland Stadium by Santos F.C. of Brazil and their international superstar Pele.  The Stokers upset Santos 2-1 before a team record crowd of over 16,000 at Cleveland Stadium.
The Stokers folded after the 1968 season as part of a massive contraction that saw the NASL shrink for 17 clubs to just 5.
Cleveland Stokers Shop

Stokers Retro T-Shirt by Throwback Max
Ian Plenderleith's Definitive Account of "The Short Life & Fast Times of the North American Soccer League"
Cleveland Stokers Memorabilia
In Memoriam
Stokers goalkeeper Paul Shardlow died of a heart attack while training on October 14, 1968.  He was 25 years old.
Original Stokers owner Vernon Stouffer died on July 26, 1974 at age 72.
Stokers striker Enrique Mateos passed away on July 6, 2001 at age 66.
1968 Stokers co-owner Ted Bonda died on October 12, 2005.
1968 Stokers co-owner Howard Metzenbaum died on March 12, 2008.  He was 90 years old.
Links
United Soccer Association Programs
North American Soccer League Media Guides
North American Soccer League Programs
###