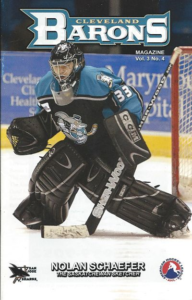 American Hockey League (2001-2006)
Born: 2001 – The Kentucky Thoroughblades relocate to Cleveland, OH.
Moved: January 9, 2006 – The AHL approves the Barons move to Worcester, MA.
Arena: Gund Arena
Team Colors:
Owner: San Jose Sharks
Calder Cup Championships: None
The 2001-2006 Cleveland Barons of the American Hockey League represented the second revival of the classic "Barons" hockey brand in Cleveland.  The original Barons played in the AHL from 1937 to 1973.  When the NHL's woeful California Golden Seals franchise moved to Ohio to play in the old Richfield Coliseum in 1976, they reclaimed the historic Barons name.  But the club was a disaster and lasted just two seasons before financial insolvency forced the team to merge with the Minnesota North Stars in June 1978.  To this day, the NHL Cleveland Barons remain the last franchise from North American Big Four professional sports leagues (MLB, NBA, NFL and NHL) to go out of business.
Pro hockey returned to Cleveland in 1992 with the arrival of the Cleveland Lumberjacks of the minor International Hockey League.  The 'Jacks enjoyed some good crowds in the mid-1990's. But by the end of the decade the IHL was on the verge of collapse. Cleveland became one of the league's trouble spots, drawing fewer than 3,000 fans per night at Gund Arena by the end of the decade.
After the IHL and the Lumberjacks folded in the spring of 2001, the San Jose Sharks moved their Lexington, Kentucky AHL farm club to Gund Arena for the 2001-02 season.  The Sharks brought back the old Barons identity, but the farm club used San Jose's modern colors of teal and black.
Perhaps the Lumberjacks' struggles soured the market on minor league hockey or maybe northeast Ohio fans just couldn't get excited about the far away San Jose Sharks.  The Barons also played very poorly, failing to make the Calder Cup playoffs in four of their five seasons.  Whatever the problem, the modern day Barons failed to spark much interest in Cleveland.  Through the club's first four-and-a-half seasons at Gund Arena, attendance averaged only 3,716 per game according to The Silicon Valley Business Journal.   The Sharks reportedly lost several million dollars on the Barons over the years.  Midway through the 2005-06 season, San Jose management applied to the AHL to move the team to Worcester, Massachusetts for the 2006-07 season.  The move was approved on January 9, 2006 and the Barons finished out the season as a lame duck team.  The franchise lives on today as the Worcester Sharks San Jose Barracuda.
Cleveland Barons Memorabilia
Links
American Hockey League Media Guides
American Hockey League Programs
###