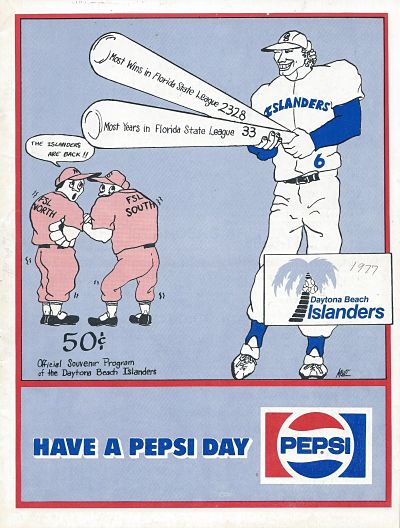 Florida State League (1977)
Born: September 1976
Affiliation Change: 1978 (Daytona Beach Astros)
Stadium: City Island Park
Team Colors:
Owner: Fred Nichols
Florida State League Championships: None
The Daytona Beach Islanders formed in October 1976. At the time, Daytona Beach had hosted more Florida State League seasons (33), games (4,461) and victories (2,328) than any other city in Florida. This despite the fact that City Island Park sat empty the previous three summers since the departure of the Daytona Beach Dodgers in 1974.
The Islanders were a Class-A farm club of the Kansas City Royals. A half-dozen Islanders players would go on to make the Major Leagues. The most prominent were first baseman Ken Phelps and pitcher Renie Martin. Phelps hit 123 homers in the Majors as a journeyman DH between 1980 and 1980. Martin made relief appearances in three games of the 1980 World Series for Kansas City.
Islanders owner Fred Nichols was a Connecticut financial advisor who owned a small collection of minor league baseball clubs in the Eastern United States during the late 1970's.
Following the 1977 season, Kansas City pulled out of Daytona Beach and the Houston Astros came in. The team was subsequently re-branded as the Daytona Beach Astros (1978-1984).
Downloads
April 1977 Daytona Beach Islanders vs.  Miami Orioles Game Notes
Links
##