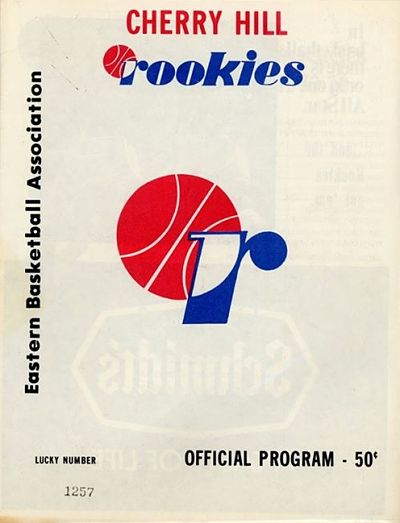 Eastern Basketball Association (1973-1975)
Born: 1973
Folded: 1975
Arena: Cherry Hill Arena
Team Colors:
Owner: Rich Iannarella
EBA Championships: None
This short-lived minor league basketball outfit operated in Philadelphia suburb of Cherry Hill, New Jersey for two winters in the mid-1970's.  Former Philadelphia 76ers executive Rich Iannarella purchased the Eastern Basketball Association franchise rights in 1973. It was a decision the promoter later characterized as "stupid" and "the worst financial mistake I ever made in my life" in an August 1977 interview with Delaware County Times columnist Gene Gomolka.
In February 1974, towards the end of the Rookies' first season in the EBA, the wild former ABA All-Star John Brisker appeared briefly for Cherry Hill. Brisker played for the NBA's Seattle Supersonics at the time, but didn't get along with Sonics head coach Bill Russell.  Russell banished Brisker to Cherry Hill for three games in the middle of the 1973-74 season. Brisker poured in 58 and 51 points in the only two full games he played. Brisker's career petered out in Seattle in 1975 at age 27. He vanished in Idi Amin's Uganda in 1978 under mysterious circumstances and was never heard from again.
Rich Iannarella fled his failed venture after one season to become an executive with the Philadelphia Bell of the doomed World Football League. The Rookies went out of business less than a year later in 1975.
==In Memoriam==
John Brisker (Rookies '74) was declared legally dead in 1985 seven years after his disappearance in Uganda.
==Links==
Eastern Basketball Association Programs
##