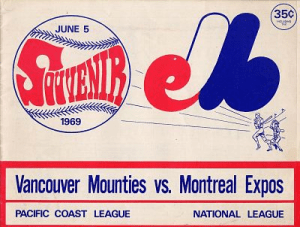 Vancouver Mounties vs. Montreal Expos
June 5, 1969
Capilano Stadium
Attendance: 5,906
This attractive, landscape-style program comes from a June 1969 exhibition contest between the Montreal Expos and the Vancouver Mounties of the Pacific Coast League.
In-season exhibitions between Major League teams and their farm clubs are sadly a thing of the past, although the practice was commonplace as late as the 1980's.  In fact, this game was one of three such contests played on this night alone in 1969: the Atlanta Braves also played their Richmond Braves affiliate and the Minnesota Twins took on the Denver Bears of the American Association.
This was an interesting match-up because one team was on the way in and the other on the way out.  Montreal was two months deep into their expansion season in the National and man, were they ever terrible.  The Expos rode an 18-game losing streak into Vancouver's Capilano Stadium.  One could presume that the Expos pitching staff was rather banged up from such a luckless run.  Rather than burn a pitcher from the Major League roster, Montreal flew in a 22-year old right-hander named John Glass from their Class A farm team in West Palm Beach, Florida.
The Mounties, meanwhile, were at the end of a 13-year run in the city of Vancouver.  The 1969 Mounties had the unenviable duty of serving as a farm club to two different sad-sack, last-place Major League expansion clubs – the Expos and the Seattle Pilots.  At the end of the 1969 season, the Mounties would leave Vancouver to move to Salt Lake City.
The game drew a near-capacity crowd of 5,906 to Capilano Stadium (better known today as Nat Bailey Stadium).  The Mounties got to John Glass for a four-run outburst in the fourth inning.  The Mounties' big hit was a two-run double off the bat of Don Hahn, a 20-year old Expos prospect who had been the starting center fielder for Montreal in the franchise's first Major League game two months earlier.  The Mounties held on for a 5-3 win.
The loss was the Expos' 19th in a row.  For John Glass, the young Class A pitcher who started for Montreal, the exhibition was as close as he would get to the Major Leagues during an eight-year minor league career that ended in 1974.
==Links==
More Major League vs. Minor League Baseball Exhibitions
##