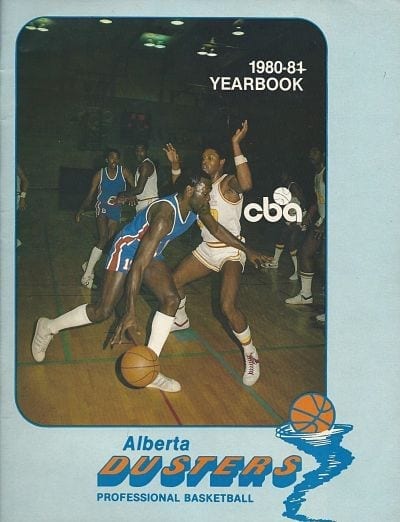 Continental Basketball Association (1980-1982)
Born: 1980 – CBA expansion franchise
Moved: 1982 (Las Vegas Silvers)
Arena: Canada Games Sportsplex (5,100)
Team Colors: Orange & Blue
Owners: Jack Molcak, Bob Alexander, Fred Burton, Ed Klone, Ken Kotkas, Perry Kotkas, Bernie Norton and Kelly Robinson
CBA Championships: None
The Alberta Dusters were a short-lived minor league basketball operation based out of the Western Canadian city of Lethbridge, Alberta. At the time the Dusters played in the early 1980's, they were the only pro basketball franchise in Canada.
In the spring of 1980, team founder Jack Molcak looked into the possibility of entering a Lethbridge team in a proposed new Canadian pro basketball circuit.  The Canadian league never got off the drawing board, but Molcak connected instead with the Pennsylvania-based Continental Basketball Association. The CBA traced its roots back to 1946 as the Eastern Basketball League. For most of its history, the Eastern League was a weekends-only minor league active in Pennsylvania, New Jersey and a few others neighboring states. But in 1978 the Eastern League re-branded and expanded nationwide, placing teams as far away as Anchorage and Honolulu.
The Dusters never made much of a mark in the league. They finished in last place (11-31) in their debut season in the winter of 1980-81. The next year wasn't much better with a 12-34 mark.
The franchise left town for Las Vegas in 1982 under new ownership and later drifted to Albuquerque, New Mexico before folding for good in 1985.
==Alberta Dusters Programs on Fun While It Lasted==
Season
Date
Opponent
Score
Program
Other

1981-82

1981-82
2/4/1982
@ Lancaster Lightning
??
Program
==Links==
Continental Basketball Association Media Guides
Continental Basketball Association Programs
###