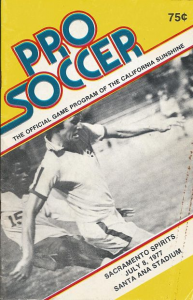 American Soccer League (1977-1980)
Founded: 1977 – ASL expansion franchise.
Folded: March 1981
Stadiums:
1977 & 1980: Santa Ana Stadium
1978: Orange Coast College
1979: El Camino College
1979: West High School (6,000)
Team Colors: Orange & Blue
Owners:
1977: Warren Hoffnung
1977: Vito Castellano
1977-1980: Dr. Robert Everakes & Alexandra Everakes
The California Sunshine were an Orange County-based club that played in the chaotic American Soccer League (1933-1983). The ASL was the de facto 2nd division of American pro soccer in the latter half of the 1970's.  Southern California was an early hotbed of the youth soccer boom in the late 1970's. The region was eagerly exploited by both the ASL and the more ambitious, bigger budgeted North American Soccer League (1968-1984).  In 1978, the two leagues had five franchises active in Orange County and neighboring Los Angeles County.
The Sunshine were particularly strong on the field in 1978 and 1979.  The 1979 club was a league-best 22-3-3, but crashed out of the playoffs in disappointing fashion, upset in the semis by the eventual champion Sacramento Gold.   The club developed several players who would go on to long and successful careers in the indoor soccer in the 1980's, including English striker Andy Chapman and American forwards Joey Fink and Poli Garcia.  Garcia scored 15 goals for the Sunshine in 1979 and won the ASL's Most Valuable Player award.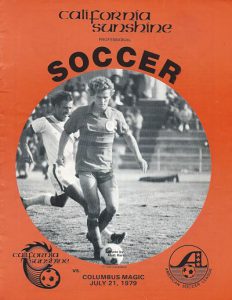 As with most ASL clubs, the Sunshine's financial condition was always touch-and-go. During, the club's first season in the summer of 1977, the Sunshine cycled through three team Presidents, as two owners walked away from the club.  At one point, players went unpaid for six weeks.  By the end of that summer, a limited partner named Dr. Robert Everakes would emerge as the club's primary owner.
Dr. Everakes and his wife Alexandra would run the Sunshine as a mom-and-pop operation for the remainder of the team's existence.  The Sunshine were kicked out of the league for a few hours in 1979 when the Everakes couldn't come up with the money to pay their annual dues.  After a dominant 22-3-3 season in 1979, the team was dismantled early in the 1980 season. The cash-strapped owners cut loose top performers like Andy Chapman and Alan Kelley and imposed 50% pay cuts on those who remained.  Head Coach Derek Lawther would also resign over financial frustrations before the season was through.
After the 1980 season, the Golden Gate Gales and the Sacramento Gold folded, leaving the Sunshine as the only American Soccer League club still standing on the West Coast.  The Everakes claimed they were ready to move forward with another hand-to-mouth season, but in March 1981 ASL Commissioner Mario Machado announced that the team would go into a "forced dormancy" due to the league's geographic contraction.  The Sunshine were never heard from again. The ASL itself went out of business in early 1984.
California Sunshine Memorabilia
Downloads
1978 American Soccer League Attendance Summary
Links
American Soccer League Media Guides
American Soccer League Programs
###


Additional Sources:
"County Pro Volleyball A Success", Mike Wojciechowski, The Orange County Register, July 21, 1977
"Chapman, Lost To The Cobras, Strikes Out At Sunshine For Several Reasons", Victor Cota, The Orange County Register, June 13, 1980
"Sunshine put on sidelines for season", Dave Strege, The Orange County Register, March 13, 1981
###