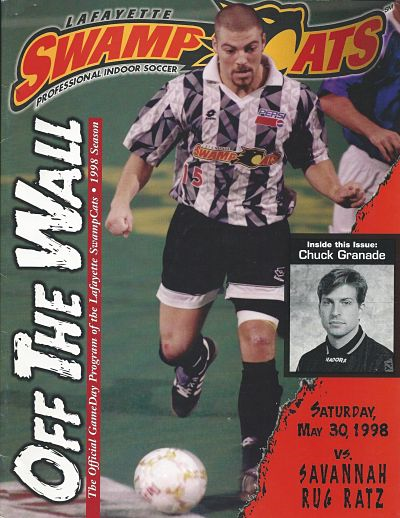 Eastern Indoor Soccer League (1997-1998)
Born: 1997 – EISL founding franchise
Folded: Postseason 1998
Arena: Cajundome
Team Colors:
Owners: Thomas Galloway & D. Wayne Elmore
EISL Champions: 1997 & 1998
The Lafayette SwampCats were a minor league indoor soccer club in the Eastern Indoor Soccer League.  The EISL brought pro indoor soccer to mid-size markets in the Southeastern United States and played a May-August schedule.  The league folded in late 1998 after only two seasons of existence.
The SwampCats home debut in June 1997 drew an encouraging announced crowd of 9,276 to the Cajundome for the first ever pro indoor soccer match in the state of Louisiana, but the game also exposed the EISL's low quality of play and lack of parity as the SwampCats trounced their opponents, the Columbus (GA) Comets, 22-0 that evening.
The SwampCats turned out to be the EISL's alpha club throughout the league's brief run, finishing first in the regular season both years and winning the league title game in 1997 and again in 1998.   In 1997, the SwampCats defeated their in-state rivals, the Baton Rouge Bombers, 12-9 in the stand-alone championship match.  In August 1998, the SwampCats defeated the Mississippi Beach Kings 10-9 to repeat as champions.  This match proved to be the final EISL game ever played.
Downloads
June 8, 1998 Lafayette SwampCats Roster 
Links
Eastern Indoor Soccer League Media Guides
Eastern Indoor Soccer League Programs
###