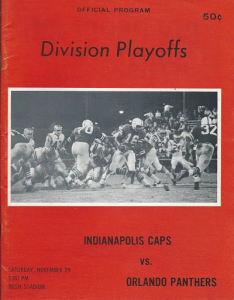 Indianapolis Capitols vs. Orlando Panthers
Continental Football League Division Playoffs
November 29, 1969
Bush Stadium
Attendance:
Continental Football League Programs
52 pages
I'm posting this rare but rather dull-looking Indianapolis Capitols (1968-1970) football program today because we're shipping it out to a collector in Indiana tomorrow and I think we're unlikely to see one of these again.  This program was from the dying days of the Continental Football League (1965-1969), a nationwide organization that could never quite make-up its mind whether it wanted to be a rival to the AFL & NFL or a subsidized farm system for the established leagues.
For minor league football cultists this semi-final playoff game featured a dream match-up at quarterback between the young African-American signal caller for the Caps, Johnnie Walton, and Don Jonas of the Orlando Panthers.  Walton was on loan to the Caps from the Los Angeles Rams' taxi squad.  He was the Most Valuable Player in the Continental League in 1969 and went on to a fascinating journeyman career in the NFL, WFL and USFL right up through the mid-1980's.  You can read more about Walton in this earlier Caps article.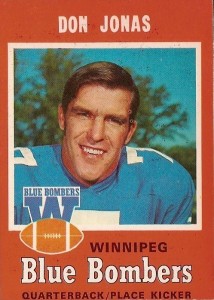 If anything, Jonas was even better than Walton in the Continental League.  He won three consecutive MVP awards from 1966 to 1968 and led the Panthers to the league championship game in all three seasons, winning in 1967 and 1968.  Walton finally pried the MVP award loose in 1969 and he also beat Jonas and the Panthers on this night in Indianapolis, 27-7.  The Caps went on to win the final championship of the Continental League two weeks later on December 13th, 1969, also at Bush Stadium.
The Continental Football League folded in early 1970 and both the Caps and the Panthers were instrumental in its demise, as both jumped to the lower-budgeted Atlantic Coast Football League.  Both franchises played one final season in the ACFL in 1970 before folding for good.
Jonas moved on to the Canadian Football League's Toronto Argonauts in 1970.  In 1971 he joined the CFL's Winnipeg Blue Bombers and had a spectacular season, passing for 4,036 yards and winning the league's Most Outstanding Player Award.  Throughout his career, Jonas typically threw a pile of interceptions along with his gaudy yardage and touchdown stats.  1971 was no different and it's kind of remarkable that he won Most Outstanding Player honors while throwing 31 interceptions.
##