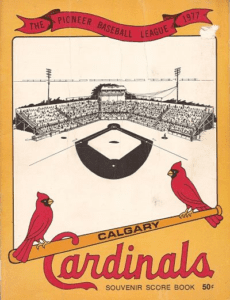 Pioneer League (1977-1978)
Born: 1977 – Pioneer League expansion franchise.
Affiliation Change: September 1978 (Calgary Expos)
Stadium: Foothills Stadium
Team Colors:
Owner: Russ Parker
Pioneer League Championships: None
The Calgary Cardinals were a short-lived farm club of the St. Louis Cardinals that played in the Rookie level Pioneer League in 1977 and 1978.  The Cards entered the Pioneer League in June 1977 as one of two expansion clubs in the 6-team loop, alongside the Medicine Hat A's.  The ball club was founded by Russ Parker, a local baseball lover who made his money selling photocopiers.
Johnny Lewis, the Cards' manager in 1977, was the first African-American field manager in the history of the Pioneer League dating back to 1939.
Following the 1978 season, the Montreal Expos replaced the Cardinals as Calgary's parent club.  The club was known as the Calgary Expos from 1979 until 1984.  After the 1984 season, team owner Russ Parker purchased the Class AAA Salt Lake Gulls of the Pacific Coast League and brought the club north to Foothills Stadium, where it became the Calgary Cannons in 1985.  The Expos and the Pioneer League left town to make way for the higher-level Cannons and moved to Salt Lake, meaning the two cities effectively swapped franchises.
Links
##