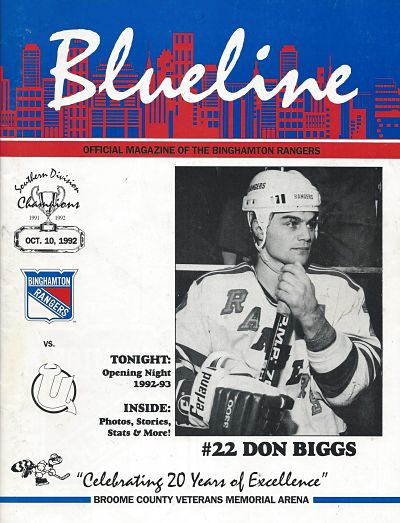 American Hockey League (1990-1997)
Born: 1990 – Affiliation change from Binghamton Whalers
Moved: June 8, 1997 (Hartford Wolfpack)
Arena: Broome County Veterans Memorial Arena
Team Colors:
Owners: Bob Carr, Jim McCoy and Tom Mitchell
Calder Cup Championships: None
The Binghamton Rangers were the top farm club of the New York Rangers for seven seasons during the 1990's.
The 1992-93 Binghamton squad re-wrote the American Hockey League record books. Journeyman center Don Biggs (pictured top right) had the greatest offensive season in AHL history with 54 goals and 84 assists. His 138 point campaign still stands as the league record nearly a quarter century on. Despite his amazing scoring pace, Biggs never earned a call-up to New York. His NHL career was limited to 11 games with the Philadelpia Flyers during the 1989-90 season. Biggs' greatest claim to fame was  to serve as Patrick Swayze's skating double in the 1986 hockey flick Youngblood.
Led by Biggs, the 1992-93 Rangers posted the best regular season the AHL had ever seen with a 57-13-10 record. With 124 points, the Rangers finished a whopping 37 points ahead of the 2nd place Rochester Americans in the AHL's Southern Division. But Rochester shocked Binghamton in the Calder Cup playoff quarterfinals, bouncing the B-Rangers in seven games. Binghamton's regular season record held up for 17 years until the 2009-10 Hershey Bears eclipsed it with 60 regular season wins.
In 1997 the New York Rangers purchased the AHL franchise from local ownership and moved the club to Hartford, Connecticut. Binghamton hockey fans were saddled with a far inferior product for the next five winters as the B.C. Icemen of the lowel-level United Hockey League moved in to Broome County Veterans Memorial Arena. But the AHL returned in 2002 with the formation of the Binghamton Senators. The B-Sens would finally win the city's first Calder Cup championship in 2011.
Binghamton Rangers Memorabilia
Binghamton Rangers Video
January 4, 1996 international exhibition contest against Yaroslavl Torpedo of Russia at Broome County Veterans Memorial Arena.
Links
American Hockey League Media Guides
American Hockey League Programs
###